The notorious hacking group Turk Hack Team has emerged as a prime suspect behind a plan for launching cyber attack on Greece, especially targeting the country's 'critical infrastructure'. The group's latest claim on social media, talks on a cyber attack on Greece. 
The perpetrators, however, refrained from naming specific targets, leaving the Greek authorities and experts grappling with uncertainty. The post, adorned with three impactful hashtags — #OpGreece, #CyberAttack, and #CyberWar — carried a threatening message: "Türk Hack Team: We warn you before you come, live in fear! Greece will be exposed to many intense cyber attacks for several days. We will hit all your critical infrastructures!"
Turk Hack Team claims to launch a cyber attack on Greece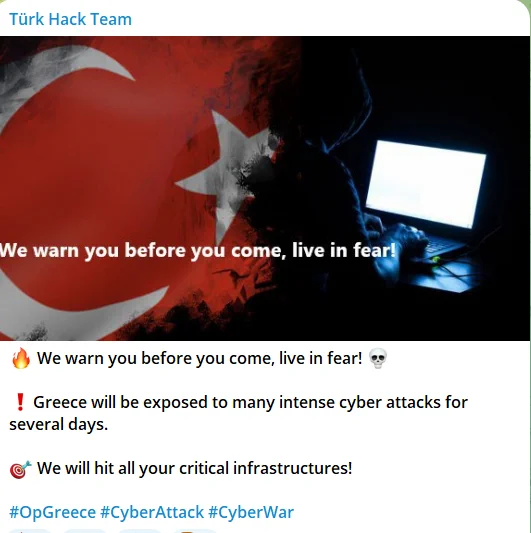 This declaration was accompanied by a vow to unleash a barrage of cyber attacks on Greece. This recent threat is not an isolated incident for the Turk Hack Team. The group previously claimed responsibility for a Distributed Denial of Service (DDoS) attack on the European Union Cyber Security Agency (ENISA), showcasing their technical prowess and capability to attack high-profile agencies and companies.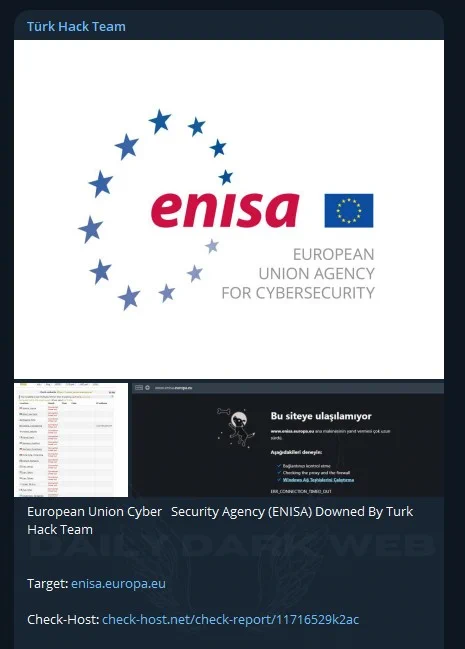 The timelines of these attacks seem to coincide, further deepening suspicions about the group's intentions. While the Turk Hack Team's motives remain obscure, its history of genuine cyber-attacks has raised concerns. 
Last June, the group targeted Star Alliance, the world's largest airline alliance, leaving it momentarily crippled. The Turk Hack Team left a message echoing their control over the situation: "7 Star Alliance Downed By. Turk Hack Team. We play with your systems the way we want."
Cyber attack on Greece: Previous attacks and mitigations 
Notably, Greece has also experienced cyber attacks in the past. A particularly damaging incident occurred last May, where a cyberattack disrupted high school exams in the country, causing widespread confusion and triggering a political brawal. The Greek Education Ministry described it as the "worst cyber attack" in the nation's history, leading to a new investigation.
Moreover, this cyber attack claim from Turk Hack Team is yet to be identified because the threat actor has claimed no major organization after posting this threat. However, recent cyber attacks on Greece have already taken a toll on the country. 
Just last year, Albanian prosecutors sought to hold public officials accountable for failing to counter cyber attacks that incapacitated state institutions. As the investigation into the potential cyber attack on Greece unfolds, cybersecurity experts and authorities face the task of fortifying the nation's defenses against a faceless enemy. 
With new threats and criminals targeting the country, The National Cyber Security Authority (NCSA) was created to manage this shift from escalating cyber threats. The national cybersecurity strategy, released on December 7, 2020, focuses on securing public and private sectors and critical infrastructures. 
Collaboration with the European Union Agency for Cybersecurity (ENISA) includes electronic identification, cloud security, IoT, and AI. Escalating cyberattacks, like the DESFA and ELTA incidents, emphasize the need for a national cybersecurity program.
The NCSA plans audits and introduces a self-assessment tool to enhance security measures, and protect the nation against cyber attacks. 
Media Disclaimer: This report is based on internal and external research obtained through various means. The information provided is for reference purposes only, and users bear full responsibility for their reliance on it. The Cyber Express assumes no liability for the accuracy or consequences of using this information.