Anonymous Russia has claimed responsibility for the Birmingham Airport cyber attack, reportedly launched on the airport's website.
The hacker group made the claims publicly and announced via their Telegram post that they successfully executed the Birmingham Airport cyber attack. 
The translated post, showcasing the threat actor's claim of the Birmingham Airport cyber attack, reads: "Anonymous Russia joins the attack on UK airports! Before your eyes, sleeping international UK airport Birmingham! Glory to Russia! https://www.birminghamairport.co.uk/ https://check-host.net/check-report/10ac3552ka63 Join us!"
Birmingham Airport cyber attack: The Complex World of Airport Cybersecurity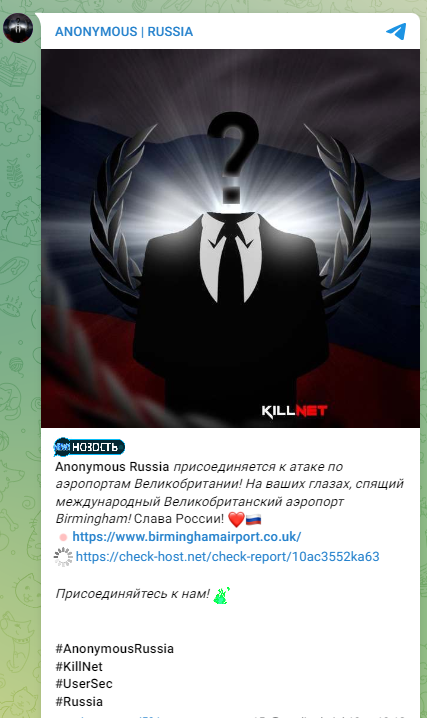 Upon learning about the alleged Birmingham Airport cyber attack, The Cyber Express reached out to the airport for clarification.
The airport authorities responded to the Birmingham Airport cyber attack query, stating that they had received reports of their website loading slowly and that were actively investigating the matter.
"Some people have reported our website was loading slowly yesterday afternoon. We are investigating", said an airport spokesperson in a conversation with TCE.
Although the authenticity of the Birmingham Airport cyber attack claim by Anonymous Russia remains unverified, it is crucial to note that incidents like Birmingham Airport cyber attack are not isolated events.
Earlier this April, a global network of airports faced a concentration of cyber attacks. 
Anonymous Sudan, another notorious hacker group, targeted airports in Delhi, Mumbai, Hyderabad, Goa, and Kochi with DDoS attacks, mirroring the tactics used in the Birmingham Airport attack.
The current condition of cyber attacks on airports
Apart from the Birmingham Airport cyber attack, a recent report from KonBriefing, an independent research group, listed 38 victims of cyber attacks on airports worldwide in 2022, all belonging to the aviation industry.
Among these attacks, many were attributed to hacker groups with affiliations to Pro-Russian movements, emphasizing their specialization in DDoS attacks.
Last year, Forbes reported on an incident that temporarily shut down several US airport websites due to a cyber attack. These recent incidents have sparked concerns regarding the preparedness required to combat such threats effectively.
As cyber-attacks on airports increase, the impact on their functioning becomes a significant cause for worry. Critical infrastructure disruptions can lead to significant economic losses, hinder travel plans, and potentially compromise passenger safety. 
Data reports highlight a concerning increase in cyber attacks on airports globally, underscoring the urgency for enhanced security measures.
As aviation relies increasingly on digital systems, ensuring the safety and security of these assets must become a top priority.
ColorTokens says that airports in general, process a vast amount of data. This data consists from details about millions of passengers and cargo. Being crucial infrastructure, breaches can cause severe consequences beyond financial loss and reputation damage.
Moreover, airport operations rely heavily on technology for ticketing, check-ins, surveillance, and staff management, expanding the attack surface due to interconnected systems. Manned and unmanned systems like terminals, e-boarding stations, and data sharing with vendors pose further cybersecurity risks.
The recent Birmingham Airport cyber attack claim by Anonymous Russia reminds us of the growing threats airports worldwide face. These attacks are not isolated incidents and necessitate a comprehensive approach to cybersecurity. 
Media Disclaimer: This report is based on internal and external research obtained through various means. The information provided is for reference purposes only, and users bear full responsibility for their reliance on it. The Cyber Express assumes no liability for the accuracy or consequences of using this information.