Hackers have taken to their dark web portals to announce a collaboration between hacktivist groups and cyber criminals, intending to initiate a series of cyber attacks under the banner of social causes.
These allied groups, collectively referred to as the 'Five Families,' have gained notoriety for their cyberespionage campaigns against organizations and their efforts to retaliate against oppressors of communities.
Participating Groups in the Modern Day 'Five Families'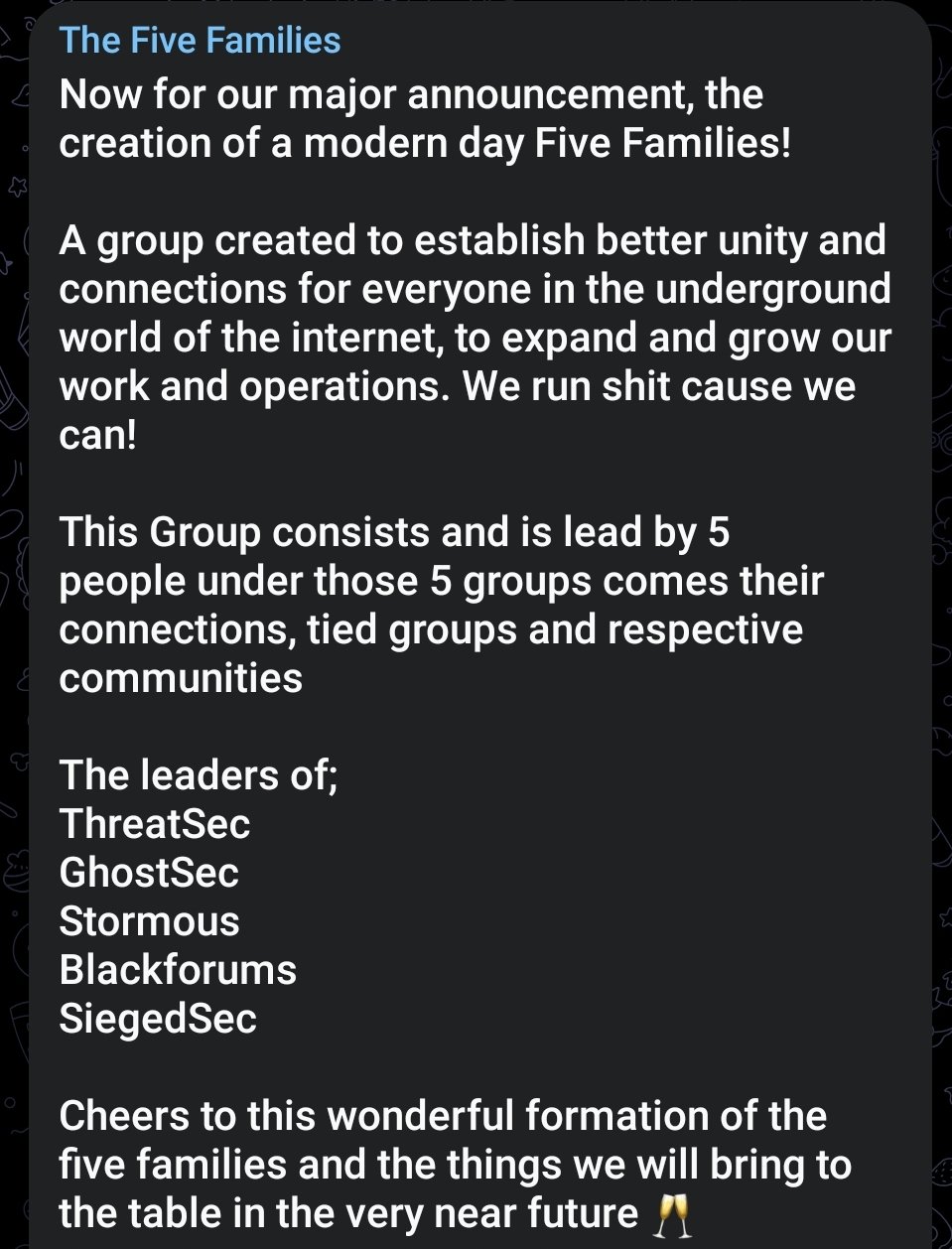 The hacktivist collective will comprise the following five cybercriminal groups –
"A group created to establish better unity and connections for everyone in the underground world of the internet, to expand and grow our work and operations," read the announcement calling the collaboration 'modern day Five Families, as posted by Threat Intelligence service CyberKnow on Twitter.
The first known Five Families was a group of Italian-American mafia crime families run by Bonanno, Colombo, Gambino, Genovese, and Lucchese.
Under the guise of the Five Families, hacktivists and affiliated groups are asserting their presence within the underworld. However, this is done in the name of hacktivism which aims to work for social change and political agenda.
About the Five Families (Hacktivist Collective)
The hacktivist version of Five Families will be run by leaders of the said groups. "This group consists and is led by 5 people under those 5 groups comes their connections, tied groups, and respective communities," stated the Five Families announcement.
The hacktivist collective's announcement concluded with a celebratory gesture, toasting to their forthcoming contributions. Many of the groups within this hacktivist collective maintain a presence across diverse social media platforms, notably including Twitter.
SiegedSec wrote on its Twitter page introduction – "Treating the web like a real-life video game ;3."
When data privacy becomes child's play (literally), as evidenced by teen hackers taking the law into their hands and causing disruption to the online security of millions of people, legal bodies, organizations, and individuals must collectively address and counteract these disruptive actions.
Because most of the hacking of organizations including those to avenge social injustice causes injustice to another group of people who do not have a hand in the social injustice.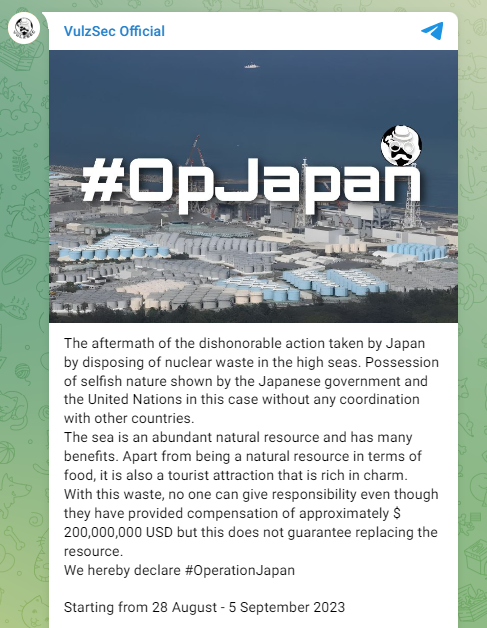 Recently, the Vulzsec group announced that they would launch cyber attacks on Japanese organizations as part of the Operation Japan campaign. This was due to the Japanese government allowing nuclear power plant wastewater to be released into the Pacific Ocean.
In conjunction with others, the hackers have publicly declared their opposition to the actions of the Japanese government, citing the adverse impact on people, particularly those employed in the fishing and agriculture sectors.
Media Disclaimer: This report is based on internal and external research obtained through various means. The information provided is for reference purposes only, and users bear full responsibility for their reliance on it. The Cyber Express assumes no liability for the accuracy or consequences of using this information.