Notorious hacking group DEVILS SEC has announced its affiliation with the formidable KILLNET organization. With their latest proclamation of solidarity with Russia's cyber attacks on Ukraine, DEVILS SEC has vowed to target highly sensitive Ukrainian facilities.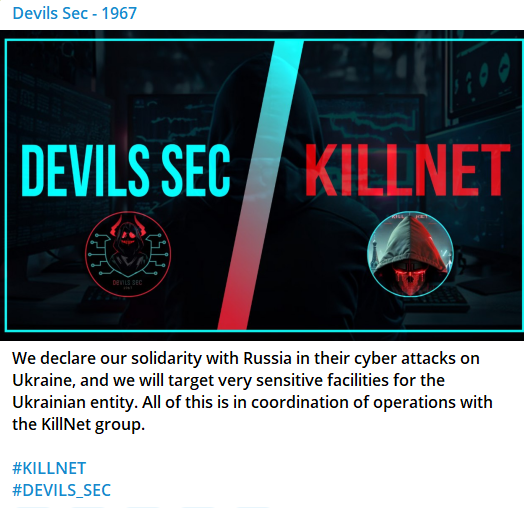 Threat intelligence service, Falcon Feed, posted about this new collaboration between the two threat groups. 
DEVILS SEC joins KILLNET: Understanding their plans 
According to the threat actor's post, DEVILS SEC has joined KILLNET to target the Ukrainian government.
The threat actor said they aligned with the KillNet group to launch cyber attacks on Ukrainian infrastructure. We declare our solidarity with Russia in their cyber attacks on Ukraine, and we will target very sensitive facilities for the Ukrainian entity. All of this is in coordinating operations with the KillNet group," reads the threat actor's post.
DEVILS SEC, a notorious hacking group that emerged in 1967, has earned a notorious reputation for hacking governments across nations and targeting organizations in various sectors. 
Their formidable skills and audacious operations have made them a persistent threat to organizations worldwide.
On the other hand, KILLNET, another prominent hacking collective, has also left its mark on the hacking world with its sophisticated attack techniques and aggressive tactics, often promoting Pro-Russian propaganda. 
The convergence of these two powerful entities amplifies the gravity of the situation, posing a challenge for cybersecurity professionals and the Ukrainian government. 
DEVILS SEC shows solidarity with Russian hackers
DEVILS SEC's declaration of solidarity with Russia's cyber attacks on Ukraine marks a troubling escalation in the ongoing conflict between the two countries. 
By aligning themselves with Russia's interests, DEVILS SEC signals their intentions to strike at the Ukrainian infrastructure and sensitive information.
The coordination between DEVILS SEC and KILLNET adds a new layer of complexity to this already intricate situation. Their partnership implies a joint effort to increase the combined effort to target Ukraine, pooling their expertise, resources, and networks.
Timeline of Cyber Warfare between Russia and Ukraine
The DEVILS SEC-KILLNET alliance is not just a regional issue concerning Russia and Ukraine but has significant global ramifications. 
With cyber-attacks increasingly blurring geographic boundaries, the ripple effects of this collaboration may extend beyond the immediate conflict zone. 
Other nation-states and critical infrastructure worldwide could become collateral damage, making it imperative for the international community to unite to combat this rising cyber menace.
To understand the cyberwar between the Russian and Ukraine hackers, it is essential to understand the timeline between cyberattacks launched by Russia and Ukraine. 
Russia launched a war on Ukraine in February 2022, accompanied by persistent cyber-attacks since the illegal annexation of Crimea in 2014. These attacks intensified before the invasion, causing significant harm to Ukraine's public, energy, media, financial, business, and non-profit sectors. 
The attacks include a cyber assault on Kyiv Post and the KA-SAT satellite network, disruption of government websites, and blocking access to financial services. The EU condemned these actions, emphasizing their risk to Europe's security. 
March 2022 witnessed malware attacks on various sectors, hindering the distribution of essential supplies. Phishing, false messages, and deep-fake videos targeted citizens and telecommunication providers. 
Additionally, April 2022 saw data breaches in government, media, and banking sectors and attempts to disrupt power stations. Most recently, the Ukrainian postal service was halted during the launch of war-related stamps.
Media Disclaimer: This report is based on internal and external research obtained through various means. The information provided is for reference purposes only, and users bear full responsibility for their reliance on it. The Cyber Express assumes no liability for the accuracy or consequences of using this information.