Egypt's prominent financial institution, Fawry, found itself in the alleged crosshairs of a newly emerged hacktivist group known as Anonymous Arabia. The group, which operates on the dark web, made their intentions clear by announcing the Fawry cyberattack on their channel. 
According to their statement, Fawry, one of Egypt's largest financial companies, was taken offline as a result of the attack, which was anticipated to last for a duration of three hours. However, Fawry denies these allegations in a statement shared with The Cyber Express.
The organization responded by denying the claims, stating:
"The company's servers were searched on live broadcasts and the results were that they were not subjected to any hacks and no financial or banking data was leaked. We apply the highest cybersecurity standards."
Fawry Cyberattack Breakdown and Verification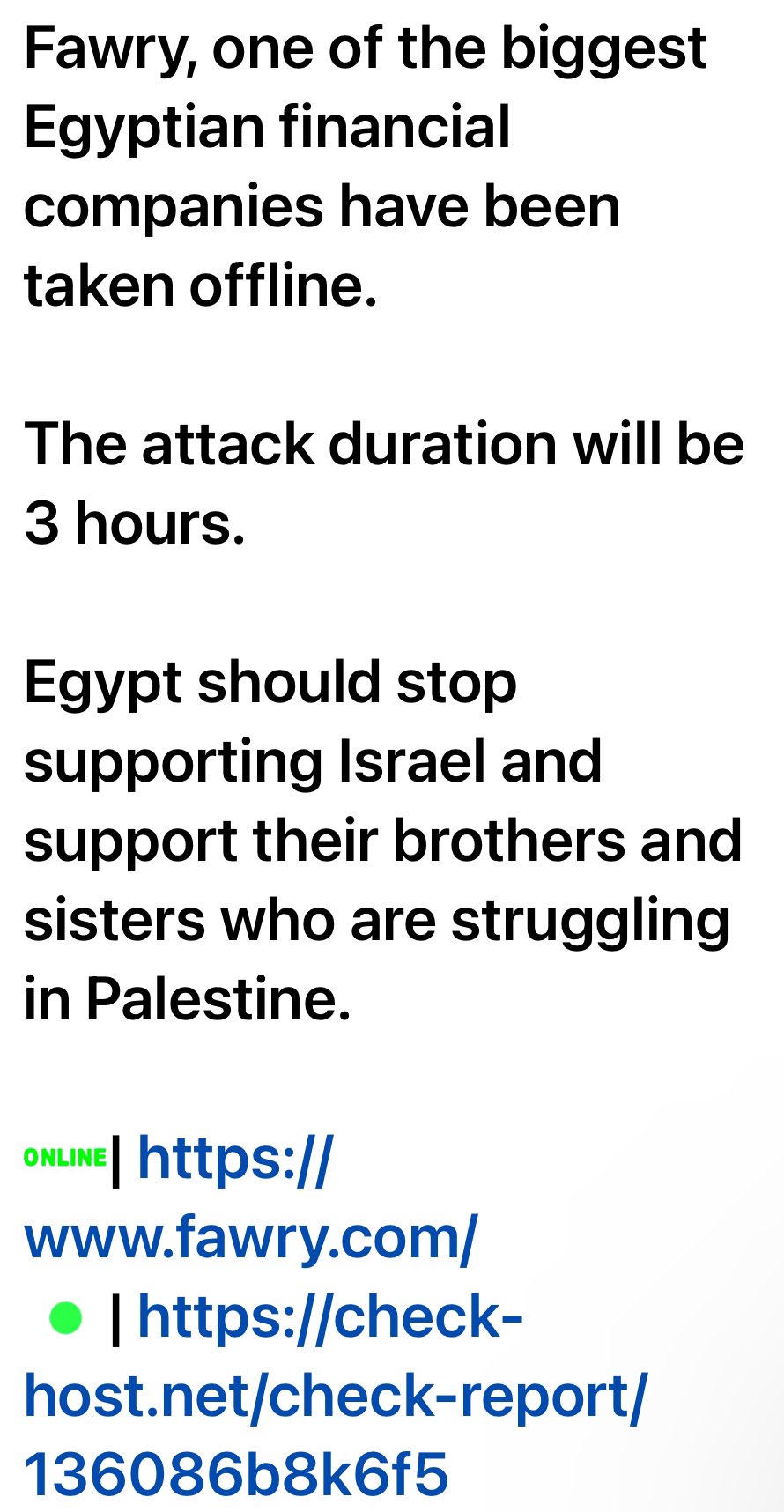 Anonymous Arabia, in its announcement, took the opportunity to express political sentiments, urging Egypt to redirect its support from Israel and stand in solidarity with the struggles of their counterparts in Palestine. 
The message was accompanied by links, including those to Fawry's official website and a Check-Host report, seemingly aimed at validating their claims regarding the Fawry data breach.
The stated Fawry cyberattack duration and the inclusion of Check-Host links created a sense of urgency and authenticity to the claims. However, a quick check on the Fawry website at the time of the report revealed that the platform was operational and showed no visible signs of a cyberattack.
Who is Anonymous Arabia?
Anonymous Arabia, appearing to emulate the infamous hacktivist group Anonymous, is a relatively new player in the dark web world. The group not only operates on the dark web but also maintains a presence on mainstream platforms such as Facebook, where it openly condemns nations it considers adversaries.
A recent post by Anonymous Arabia revealed their stance on various issues, stating, "Anonymous – Al-Majholon" by the group of Al-Hackers, "Holocaust"."Electronic" inside Israel, "Erase this country from the electronic space." The group has also addressed issues beyond the Middle East, such as revealing documents about Trump and Minneapolis police corruption in the aftermath of George Floyd's death.
While the motives and credibility of Anonymous Arabia remain uncertain, the cybersecurity community is closely monitoring the situation. 
Media Disclaimer: This report is based on internal and external research obtained through various means. The information provided is for reference purposes only, and users bear full responsibility for their reliance on it. The Cyber Express assumes no liability for the accuracy or consequences of using this information.