In less than 24 hours after Pakistani hacker collective Team Insane PK claimed to attack 23 Indian government and private organization websites, Indian hacktivist group Kerala Cyber Xtractors retaliated by claiming responsibility for taking down 10 Pakistani Embassy websites across the globe.
"Attacked Pakistan #Embassy's in different countries. This is a payback for attacking #INDIAN #police stations websites," read a tweet by Kerala Cyber Xtractors.
They also shared a screenshot featuring the official Pakistani Embassy websites of several countries, such as France, Germany, and Kazakhstan among others. The list of websites affected by the Indian hackers includes prominent Pakistani Embassy sites, such as pakmissionfrankfurt.de, pakconsulatela.org, and pakconsulateist.com.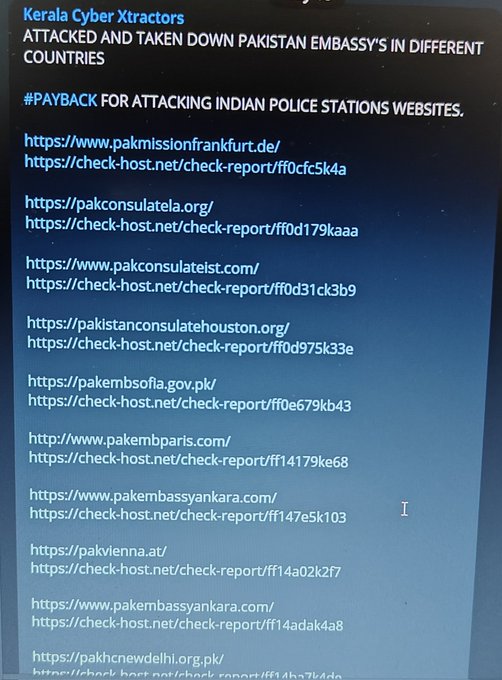 "Attacked and taken down Pakistani embassies in different countries. #Payback for attacking Indian police stations websites," read the post by Kerala Cyber Xtractors.
The hacker group also shared greetings to Indian cyberspace with a special message to Indian cybersecurity authorities and Indian hacker groups. 
"FEEL THE POWER OF INDIAN HACKERS. Greetz to:-#TEAM_ANON_101, #IndianCyberForce, #DarknetAssociation, #KeralaCyberXtractors, #NewWorldHacktivist, #IndianCyberMafia, #BlackDragonSecurity, #AnonymousIndia, #UnknownCyberCult, #ERRORXCYBER_FORCE, #1-4-1, #UnitedIndianHackers, #UnitedByOneDividedByZero," concludes the post by Kerala Cyber Xtractors.
The Cyber Express team has reached out to the respective organizations regarding the confirmation of the security incident. We are yet to receive a response.
Pakistani Hackers Target Indian Government, Claim to compromise 23 websites
It all began when Pakistani hacker group Team Insane PK, announced their successful infiltration of 23 Indian government and private organization websites.
In an online post, they attributed their actions to the alleged mistreatment of Muslims in Kashmir and India. The targeted websites included high-profile entities such as the Indian Army, Navy, and Air Force, as well as the Ministry of Defense.
While most of the Indian websites appear to be functioning normally at the time of writing, a closer look reveals lingering signs of the recent attacks. DNS records and hosting statuses still bear the scars of intrusion, with error codes like "500" serving as a reminder of the DDoS waged upon them.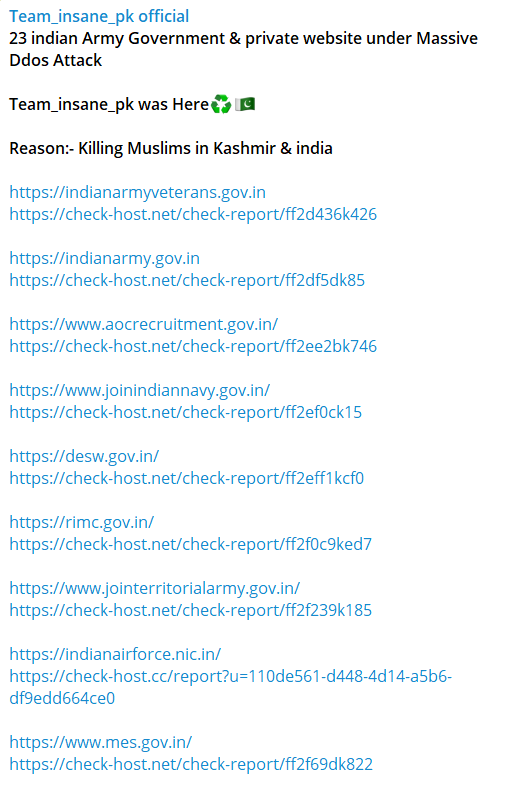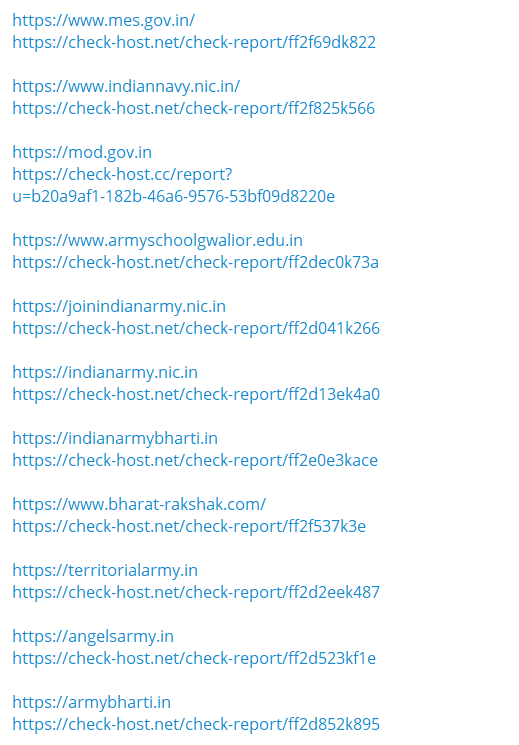 cyber warfare between India and Pakistan has continued to escalate. Each blow from one side has been met with a counterstrike from the other, escalating the tensions in the virtual battlefield.
The Kerala Cyber Xtractors' retaliatory actions were in response to a previously distributed denial-of-service (DDoS) attack launched by Team Insane PK.
Cyber Warfare: Pakistan and Indian hackers take to the virtual field
The India-Pakistan cyberwar is a good reminder of the changing nature of conflicts in the digital age. Traditional borders are no longer the only battlegrounds; the virtual world has become equally important.
The impact of these attacks extends beyond the compromised websites and disrupted services—it further erodes trust, deepens divisions, and hampers efforts for peaceful resolutions between the two nations.
Moreover, the anonymity and ease of execution in the digital realm provide fertile ground for hacktivist groups to launch attacks, often without any clear attribution or reasoning. 
India and Pakistan have a tumultuous history, marred by political tensions and sporadic military conflicts. This cyber warfare serves as a reflection of the simmering hostilities that exist between the two nations.
The rise of hacktivist groups on both sides, fueled by ideological and nationalist sentiments, adds another layer of complexity to an already fragile relationship.
In recent years, India and Pakistan have made significant strides in building their cybersecurity capabilities. However, these latest attacks highlight the vulnerability within their respective infrastructures.
As cyber threats evolve, both nations must invest in robust cybersecurity measures and international cooperation to mitigate the risks and protect their digital assets.
Media Disclaimer: This report is based on internal and external research obtained through various means. The information provided is for reference purposes only, and users bear full responsibility for their reliance on it. The Cyber Express assumes no liability for the accuracy or consequences of using this information.