The notorious KillNet hackers group has proudly claimed responsibility for a targeted cyber attack on the websites of three major gas station networks in Ukraine. These gas station cyber attacks have once again escalated the ongoing digital conflict between Russia and Ukraine, leaving security experts and authorities on high alert.
The motives behind these gas station cyber attacks remain shrouded in mystery, as the Pro-Russian hackers group has yet to divulge a clear intent for their actions. This incident adds to the series of online clashes defining the cyber warfare landscape between the two nations.
KillNet hackers group claims gas station cyber attacks: 200 gas stations down!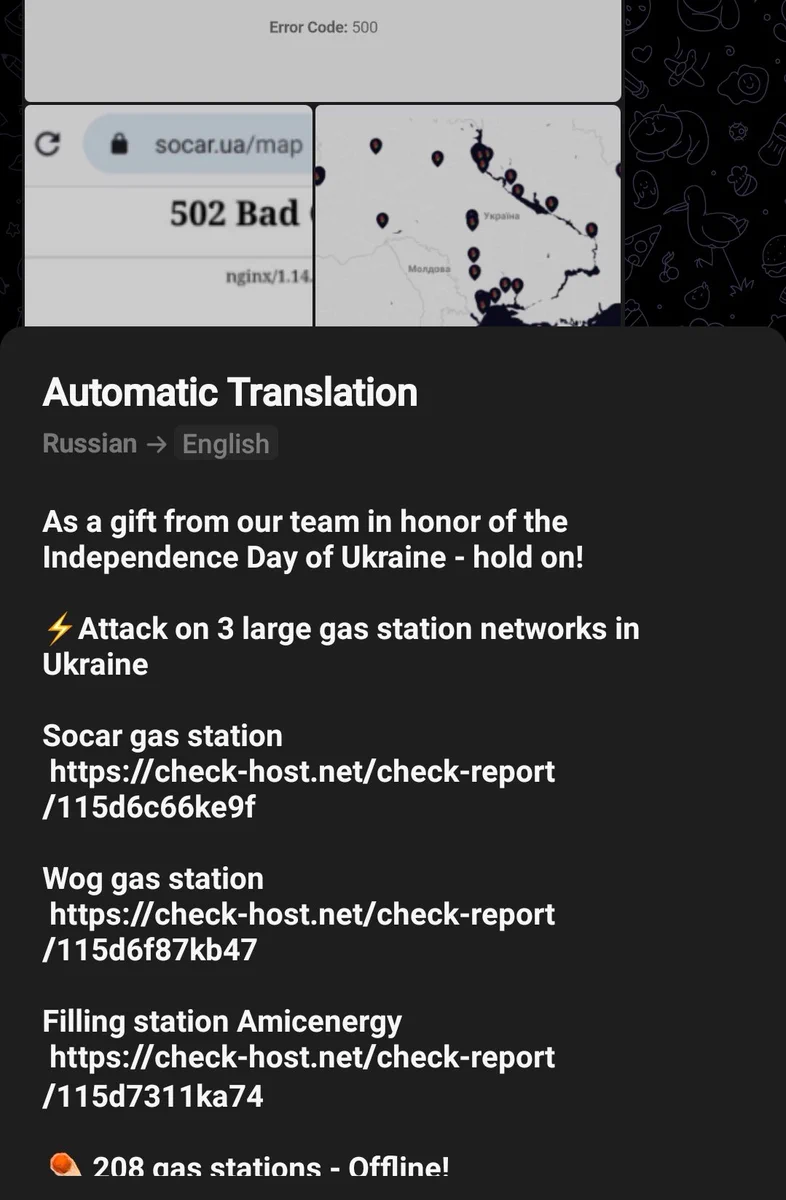 A more disturbing revelation emerges as additional posts by the threat actors have surfaced, asserting over 200 gas station cyber attacks across Ukraine. Although the full list of targeted gas stations remains undisclosed, the hackers have singled out three major victims to showcase their capabilities and send a message.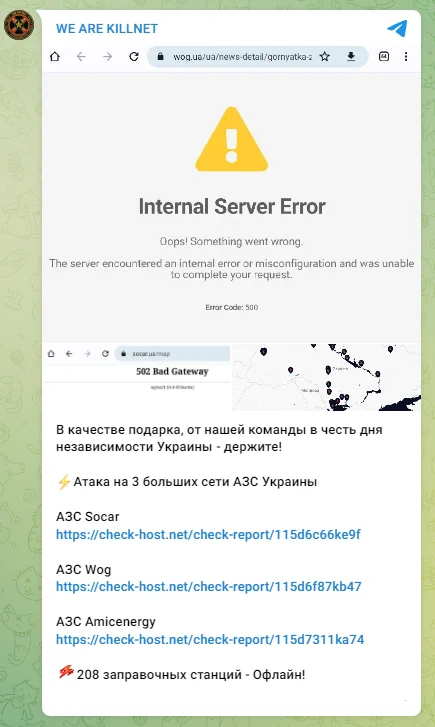 Curiously timed to coincide with Ukraine's independence day, the attack carried symbolic weight. The hackers commemorated the occasion with a post on their dark web channel, which declared, "As a gift from our team in honor of the Independence Day of Ukraine – hold on! Attack on 3 large gas station networks in Ukraine."
The victims listed in the gas station cyber attacks are SOCAR Energy Ukraine, WOG (West Oil Group), and Amic Energy. SOCAR Energy Ukraine is a prominent force in the wholesale oil and gas products sector. It boasts the capacity to supply a diverse range of products to businesses of all sizes throughout the vast expanse of Ukraine.
With a network comprising over 400 filling stations, (West Oil Group) WOG is a cornerstone of Ukraine's gas station landscape. Private and driven by the gas and oil industry, this chain has become a vital part of the country's infrastructure.
Hailing from Austria, Amic Energy oversees a network of 470 mobile and stationary filling stations and 20 electric vehicle charging stations across several countries, including Ukraine. Based in Vienna, the company's operations span multiple nations.
Websites down after gas station cyber attacks
Alarming signs emerged when the SOCAR Energy Ukraine and WOG websites went offline during the investigation, raising suspicions of a potential security breach. While these revelations provide a glimpse into the extent of the attack, the gas station cyber attack's claims remain unverified.
The Cyber Express took proactive steps to reach out to the affected companies, seeking more insight into the situation. Regrettably, at the time of compiling this report, no official statements have emerged from the victims, further complicated by communication disruptions caused by the website interruptions.
These gas station cyber attacks underscore the perilous landscape of cyber threats that corporations and nations navigate daily. Beyond the immediate impacts, the KillNet hackers group's actions underline a concerning trend of their relentless targeting of Ukraine. With a clear propensity for advancing pro-Russian agendas, the group continues to sow digital discord, leaving a wake of uncertainty and vulnerability in their path.
Media Disclaimer: This report is based on internal and external research obtained through various means. The information provided is for reference purposes only, and users bear full responsibility for their reliance on it. The Cyber Express assumes no liability for the accuracy or consequences of using this information.