Lux Paper Box, a gift box manufacturing company suffered from a defacement attack by cybercriminals. The Lux Paper Box defacement attack was launched by @ODIYAN911, read the homepage of the impacted website.
The Instagram handle of the printing and packaging company read that it manufactures paper boxes for various items including jewelry, flowers, perfume, and food, among others.
Lux Paper Box defacement attack
The website of the packaging company displayed an image with the names of the hackers on the screen after the Lux Paper Box defacement attack. The webpage also had a foreign language song linked to it.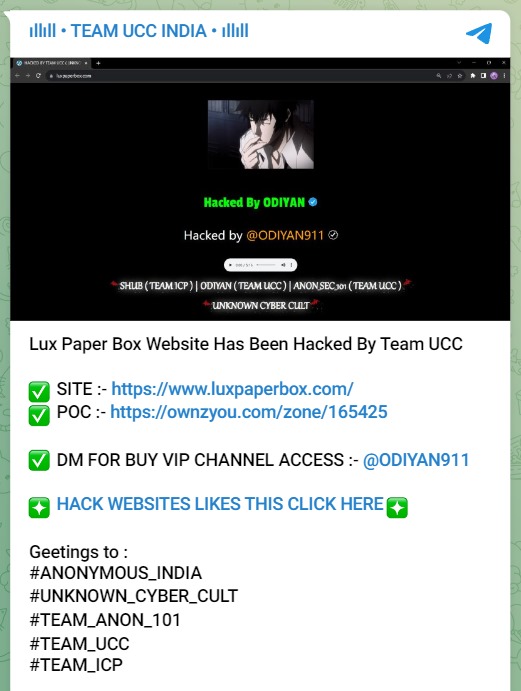 Threat Intelligence platform Falcon Feeds tweeted about the Lux Paper Cut cyber attack that left the website inaccessible. "TEAM UCC INDIA hacker group claims to have defaced the website of Lux Paper Box," read the tweet.
The Telegram message by the cybercriminals behind the Chinese packaging company's website cyber attack mentioned other hackers in it. The following cybercriminal groups were mentioned as part of the Lux Paper Box defacement attack –
Anonymous India
Unknown Cyber Cult
Team Anon 101
Team UCC
Team ICP
Indian hackers gaining notoriety for cyber attacks
The relatively new hacking groups mentioned in the Lux Paper Box cyber attack highlight the growing number of individuals fighting for social causes by resorting to cybercrimes. The introduction on Twitter for one of the groups noted in the Lux Paper Box cyber attack claim – Anonymous India read, "We are Anonymous. We are legion. We do not forgive….."
They call themselves a non-governmental and nonprofit organization that urge people not to be afraid of their governments.
Not much is known about the other groups mentioned in the defacement attack on Lux Paper Box.
Hacktivism and campaigns against nations
A report by Mint stated that India was the most attacked nation by religiously motivated hacktivists. Radware cybersecurity firm pointed out that 480 Distributed Denial of Service attacks were aimed at Indian websites within the first three months of 2023.
Besides India (30%), Israel suffered 14.51% of attacks followed by Sweden (2.67%) were subjected to cybercrimes by hacktivists in Bangladesh, Pakistan, Malaysia, and Indonesia.
Politically motivated hacking incidents were aimed at Poland accounting for 5.14% of attacks, Lithuania with 2.97% and Ukraine with 2.91%.
Hacktivism can be traced back to several incidents including the one using the Worm Against Nuclear Killers (WANK) malware in 1989. The WANK worm was designed to delete all the files and was launched on the website of the National Aeronautics and Space Administration (NASA).
"Your system has been officially WANKed. You talk of times of peace for all, and then prepare for war," read a message on the impacted system. Among the reasons for this hacktivist activity was the much-debated nuclear-powered spacecraft launch.
Today, several campaigns are found targeting specific countries like Operation Russia that targeted Industrial Control Systems (ICS). OpRussia included cyber attacks launched on private organizations, financial institutes, Oil and Gas organizations, and the Energy and Transportation sector among others.
"Hacktivism is not a recent concept in society, but with increasing global instability due to changes in global security and economy, it has been observed that hacktivists are increasingly conducting cyber-related operations against state and private entities at a higher frequency than earlier observed," read a Cyble blog.
The motives behind cyber attacks have shifted from political agendas to religion, to moral motivations.
Media Disclaimer: This report is based on internal and external research obtained through various means. The information provided is for reference purposes only, and users bear full responsibility for their reliance on it. The Cyber Express assumes no liability for the accuracy or consequences of using this information.