The UserSec hacking collective has taken responsibility for orchestrating cyber attacks on two prominent airports in the United Kingdom.
The group posted the names of Birmingham Airport and Belfast City Airport as targeted victims of its cyber attacks.
Replying to an inquiry from The Cyber Express, a representative from Birmingham Airport said, "We have been made aware of efforts aimed at disrupting our website. Our team is currently conducting an investigation."
Furthermore, they acknowledged that Birmingham Airport had been "subjected to distributed denial of service (DDOS) attacks".
Birmingham Airport cyber attack and the targeting of Belfast City Airport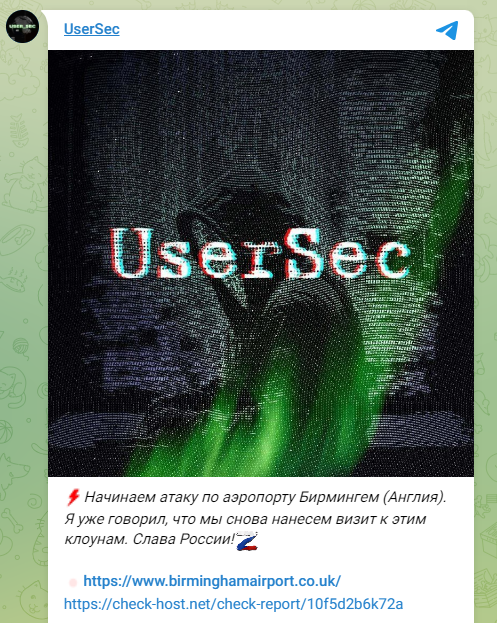 The hacker group UserSec posted the names of both airports on its Telegram channel. A BBC report confirmed that airport officials were investigating the Birmingham Airport cyber attack.
The Birmingham Airport website experienced prolonged downtime on August 7, 2023. During this period, visitors were unable to access the website and instead encountered an error message due to the Birmingham Airport cyber attack.
Commenting on the cyber attack targeting Birmingham Airport, a representative told the BBC, "We acknowledge the efforts to disrupt our website."
The website of Birmingham Airport was live again on Monday evening. "The circumstances of Monday's disruption are unclear although some social media accounts posted claims purportedly from a pro-Russian hacking group that they were behind the events," the representative added.
In a previous instance this year, Birmingham Airport faced another cyber attack, which was linked to Russian hackers. These same hackers had also targeted London City Airport.

The Belfast City Airport cyber attack remained unconfirmed by the officials. However, the Facebook page of Belfast City Airport did mention experiencing technical issues.
The message read, "We are aware that we are currently experiencing some technical issues on our website & are working hard to resolve this as soon as possible."
People were directed to specific web pages for booking parking and for flight information. The websites of both airports were accessible post the alleged cyber attacks on Belfast City Airport and Birmingham Airport.
UserSec Hacker Teams Up with Allies to Execute Cyber Attacks
The pro-Russian hacker group UserSec collaborated with other cybercriminals to carry out cyber attacks on organizations in France and other countries.
Recently, UserSec joined hands with the Anonymous Russia hacker group to launch website defacement attacks on French websites.
Another group called Bear IT Army collaborated with UserSec to strengthen their ties and launch cyber attacks. UserSec claimed to have targeted several healthcare organizations in Romania and then announced their next target, the United Kingdom, in June.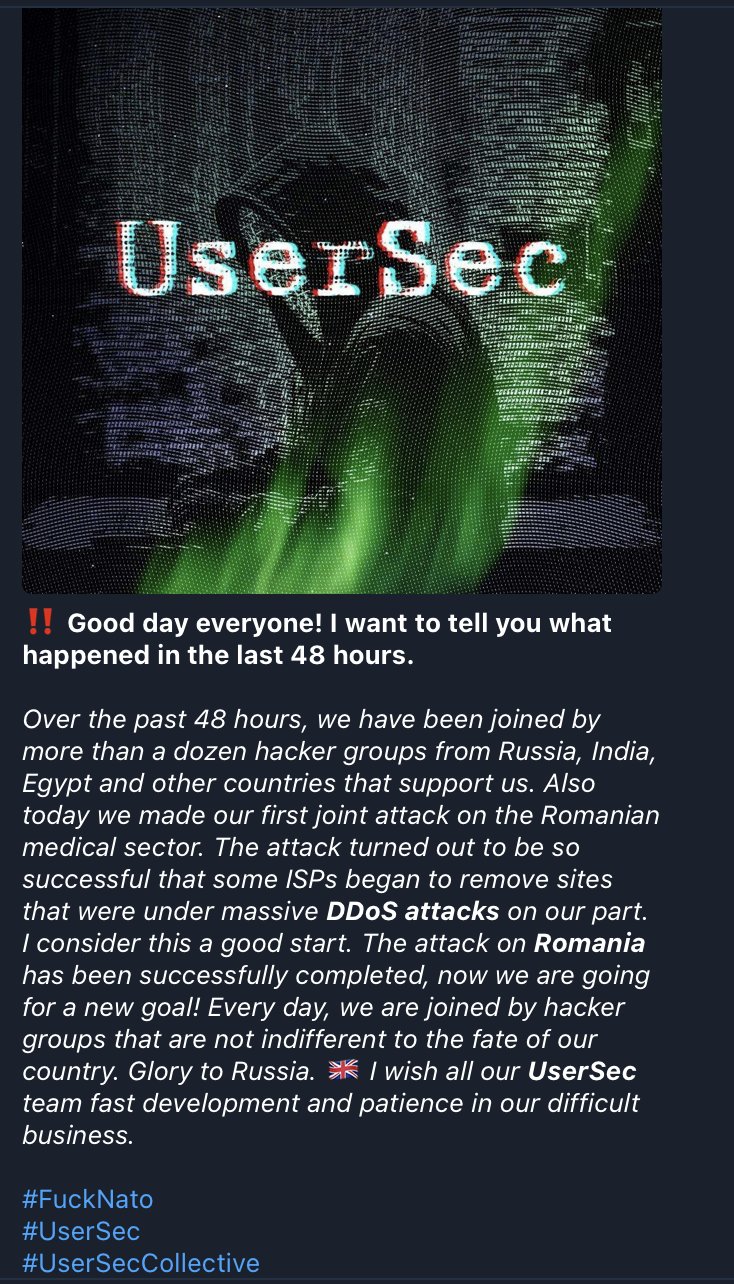 The group posted on their Telegram channel, "Over the past 48 hours, we have been joined by more than a dozen hacker groups from Russia, India, Egypt and other countries that support us."
They claimed their inaugural collective strike targeted Romania's medical sector. Highlighting the cyber attack's effectiveness, they attributed their triumph to the prestige of Russia. "I wish all our UserSec team fast development and patience in our difficult business," the post concluded.
UserSec further announced collaborating with hacker groups – TeslaBotnet, NetSide, Indian Cyber ​​Force, Black Dragon Sec, ETUnit, Loyd Xelliship, BLOODNET, and NET-WORKER.
Several hacker groups have been teaming up with each other to announce their future targets and successful cyber attacks.
While some hackers claim the motive to be fighting for Russia, others say they launched ransomware or DDoS attacks for the sake of people.
France has been facing tremendous issues in a conflict with a segment of Muslim people. There have been reports of some people wanting to make France a Muslim nation that brings guidance, light, mercy, and message to people.
The UserSec hacker collective has additionally singled out NATO as a target, particularly those supportive of Ukraine.
The NoName hacker group, in parallel, has identified European countries for Distributed Denial of Service (DDoS) attacks. They have also asserted responsibility for cyber assaults on financial institutions within Ukraine.
Media Disclaimer: This report is based on internal and external research obtained through various means. The information provided is for reference purposes only, and users bear full responsibility for their reliance on it. The Cyber Express assumes no liability for the accuracy or consequences of using this information.