A day after claiming to have targeted numerous websites in the healthcare sector of Romania, the pro-Russian hacker collective UserSec has has launched a new threat campaign against the UK.
According to recent reports from the threat intelligence service Falcon Feed, the threat actor stated their intention to target the United Kingdom.
Falcon Feed shared the post made by the the pro-Russian hacker collective on Twitter today, along with a screenshot showcasing UserSec's plan to target the UK and other NATO members.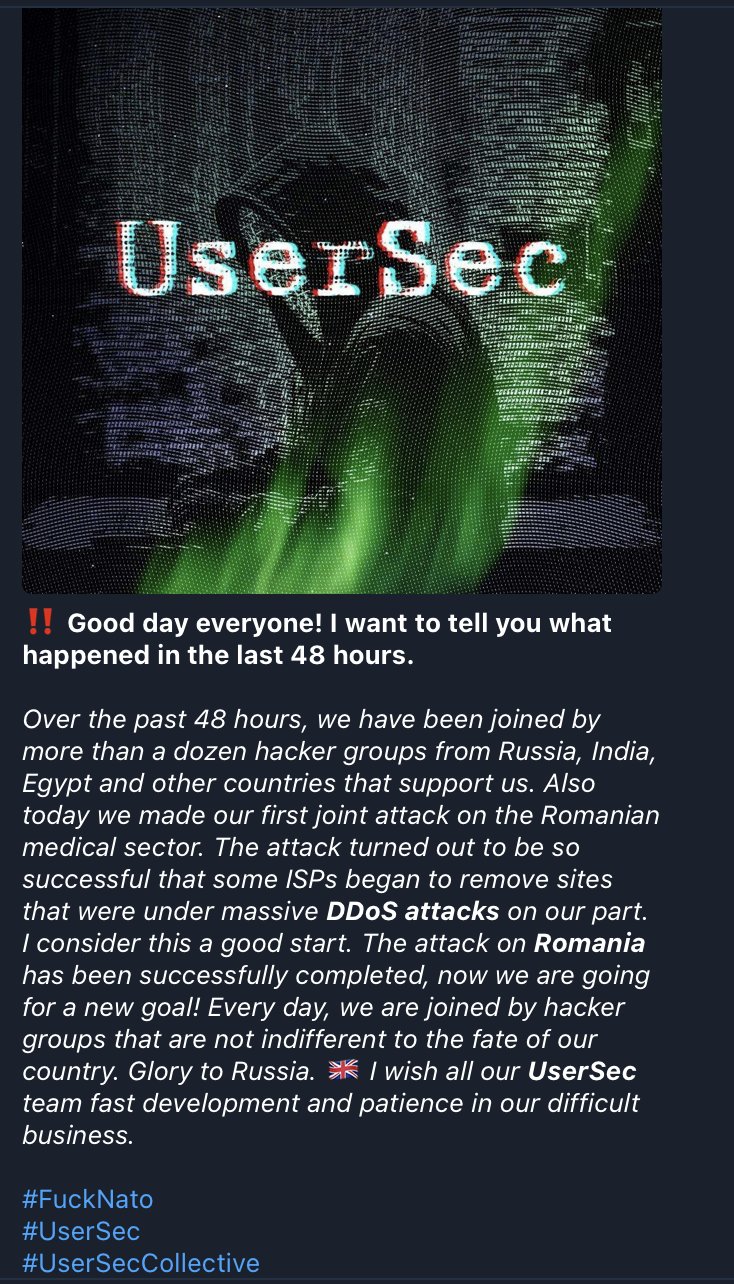 Source: TwitterIn their post, UserSec has listed UK as their next victim and boasted about recent accomplishments while revealing their future plans.
The pro-Russian hacker collective has claimed to have gained support from numerous hacker groups originating from countries like Russia, India, Egypt, and more.
UserSec boasts its collaboration with other hacker groups
UserSec expressed satisfaction with a "successful joint attack" on the Romanian medical sector, which it claimed resulted in some internet service providers taking down websites that had fallen victim to their massive distributed denial-of-service (DDoS) attacks.
"Also, today, we made our first joint attack on the Romanian medical sector. The attack turned out to be so successful that some ISPs began to remove sites that were under massive DDoS attacks on our part," read the post by the pro-Russian hacker collective.
The concerning post was further exacerbated by including three hashtags: #FuckNato, #UserSec, and #UserSecCollective, denouncing the North Atlantic Treaty Organization (NATO) and its members.
This aligns with their previous announcement last month when UserSec targeted NATO member states following the Russian invasion of Ukraine.
The group specifically targeted Western governments and organizations that offered Ukraine strategic and military support.
With this announcement, pro has made it clear about targeting the UK and its plans to launch cyberattacks on other NATO members as part of their operation.
Cyber attack on the UK barely scratches the surface
Falcon Feed shared a revealing tweet on May 19, 2022, containing screenshots of UserSec's post. Translated, the message warned of a large-scale defacement of NATO countries' websites.

The pro-Russian hacker collective emphasized their intention to deface multiple sites, leaving no country untouched simultaneously. It concluded with a triumphant shout-out to Russia, further highlighting their allegiance.
"I want to announce that in the coming days, there will be a massive defacement of the sites of NATO countries. No single country will be affected. We will deface several at once. Glory to Russia!" reads the post by the threat actor.
To clarify their motives, UserSec claimed independence from state orders, stating that their actions aimed to benefit Russia. They intended to attack Europe, the West, and all NATO countries.
The hacking collective also announced a collaboration with KillNet, another well-known pro-Russian group that initiated its campaign against NATO the previous month.
UserSec collaborates with multiple threat actors 
Previously, The Cyber Express reported about UserSec gaining support from eight pro-Russian hacking groups, collectively moving together to target NATO.
These new groups that have joined UserSec in its campaign to launch a cyberattack on the UK include TeslaBotnet, NetSide, Indian Cyber Force, Black Dragon Sec, ETUnit, Loyd Xelliship, BLOODNET, and NET-WORKER.
Moreover, SOCRadar recently published a report on the rise of Russian hackers launching the Darknet Parliament campaign, which includes notorious hacker groups such as KillNet, Anonymous Sudan, REvil, and more.
The campaign aims to attack the European Investment Bank (EIB) as one of its main targets.
Additionally, Anonymous Sudan, one of the primary participants in the Darknet Parliament campaign, shared the message on its Telegram channel, which UserSec then shared online.
SOCRadar states that the involvement of UserSec in this particular campaign could be true. "UserSec hacker group has also forwarded the messages, suggesting they may be involved in planned attacks.
The UserSec group has previously collaborated with Killnet and Anonymous Sudan", says SOCRadar.
Media Disclaimer: This report is based on internal and external research obtained through various means. The information provided is for reference purposes only, and users bear full responsibility for their reliance on it. The Cyber Express assumes no liability for the accuracy or consequences of using this information.