The 8BASE ransomware group has claimed responsibility for attacking seven new victims and listing them on their dark web portal. The affected companies include The Traffic Tech (Gulf), Telepizza, Quikcard Solutions Inc., Jadranka Group, Dental One, ANL Packaging, and BTU SA.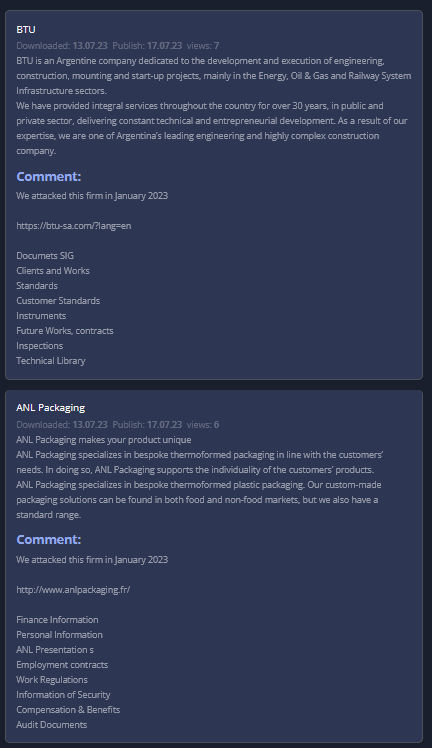 The targeted organizations do not appear to have any apparent connections to one other. This suggests that the attacks were carried out randomly, with no specific targeting strategy.
Moreover, these companies span across various nations and operate in diverse industries, emphasizing the arbitrary nature of the breaches.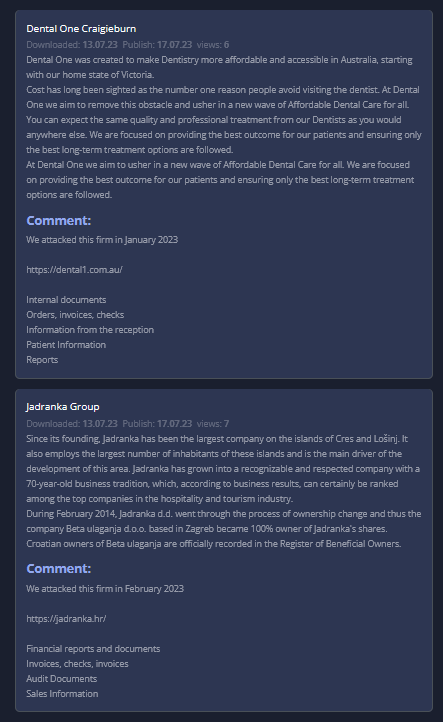 To learn more about the alleged cyber attack, The Cyber Express reached out to the targeted organizations. However, at the time of writing, no official response or statement had been received.
8BASE ransomware group targets multiple companies in a new cyber attack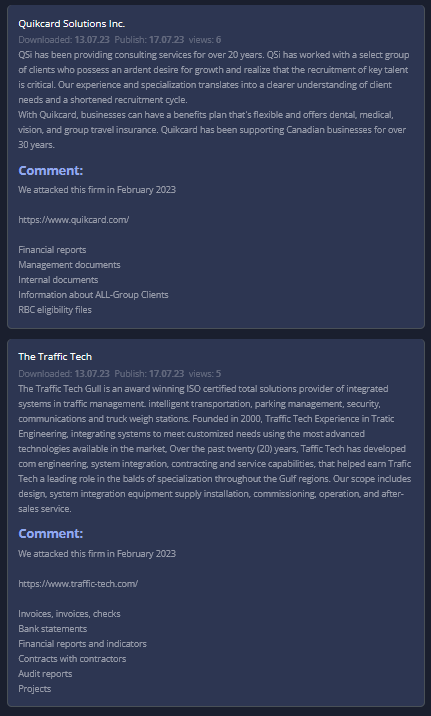 Here is a quick look at the alleged breach organizations, as claimed by the 8BASE ransomware group: 
BTU SA cyber attack
Among the victims, BTU SA, an Argentine company specializing in engineering, construction, mounting, and start-up projects primarily in the energy, oil & gas, and railway systems, was allegedly breached.
The threat claims to have targeted the organization in January 2023, accessing the company's data seven months prior reporting. 
ANL Packaging cyber attack
Based in Belgium, ANL Packaging is known for its custom-made thermoformed plastic packaging solutions
. They cater to both food and non-food markets, emphasizing the individuality of their customers' products. Unfortunately, ANL Packaging also fell victim to the 8BASE ransomware group 7 months ago. 
Quikcard Solutions cyber attack
Quikcard Solutions Inc., a Canadian consulting firm, has been offering its services for over 20 years.
Specializing in recruitment and talent acquisition, Quikcard assists businesses in their growth journey. 8BASE ransomware group claims to have targeted the organization in February 2023.
Traffic Tech cyber attack
The Traffic Tech, a recipient of multiple awards, is a certified provider of integrated systems in traffic management, intelligent transportation, parking management, security, communications, and truck weigh stations.
Serving the Gulf region, Traffic Tech has garnered recognition for its expertise in traffic engineering and system integration. The company allegedly also fell victim to a cyber attack orchestrated by the 8BASE ransomware group in February 2023.
Telepizza cyber attack
Telepizza is a renowned pizza delivery company founded in Madrid in 1987. Known for its innovative approach and commitment to quality, Telepizza quickly gained popularity as a pioneer in delivering high-quality food to customers' homes. Among the victims, the pizza company also fell victim to the 8BASE ransomware group in January 2023.
Who is the 8BASE ransomware group?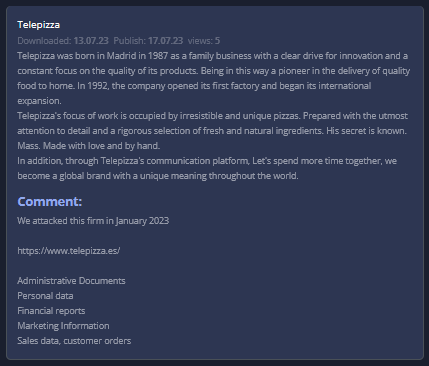 Along with these five companies, the 8BASE ransomware group has claimed cyber attacks on two more companies, Dental One and Jadranka Group. As mentioned above, the recent string of cyberattacks don't highlight any pattern, and most of these companies operate in different industries.
The 8BASE ransomware group claims to target these organizations — accessing sensitive data like companies' legal documents, invoices, financial reports, audit reports, client information, and much more. 
While these claims are yet to be verified by the alleged companies, the 8BASE ransomware group has carved its name as one of the most notorious ransomware gangs in 2023.
In a new report about the ransomware group, it was revealed that there was a sharp increase of nearly 25% in ransomware attacks targeting organizations worldwide during May.
This surge marks the highest recorded amount of attacks witnessed thus far in the year, and a notable factor behind this rise can be attributed to the emergence of 8BASE.
NCC Group's report highlights May 2023 as an extraordinary month for ransomware assaults. Comparing the statistics with the previous month, the findings revealed a staggering 56% surge in reported attacks.
The research elucidates that 436 victims fell prey to ransomware in May, significantly surpassing April's figure of 352 victims.
Matt Hull, the Global Head of Threat Intelligence at NCC Group, emphasized the sustained elevation of ransomware activities throughout 2023, with each passing month surpassing the attack volumes witnessed during the same period in the previous year.
Among the various factors contributing to this alarming spike, a notable presence is that of a novel ransomware group named 8BASE. This group, relatively new to the scene, played a substantial role in the ransomware landscape by publicly disclosing the data of 67 victims last month. This accounted for over 15% of all reported victims in May.
Media Disclaimer: This report is based on internal and external research obtained through various means. The information provided is for reference purposes only, and users bear full responsibility for their reliance on it. The Cyber Express assumes no liability for the accuracy or consequences of using this information.