Pro-Russia hacker groups have continued targeting Ukraine, with a recent report stating that the Ukraine cyberattacks have tripled in the past year.
While pro-Russia hacker group 'KillNet' is planning to target 18 different entities based out of Estonia, Poland, United Kingdom and Ukraine, hacktivist group NoName has allegedly attacked the website of OGCC (United Mining and Chemical Company), one of the largest producers of titanium raw material in Ukraine.
However, not much is known about the alleged cyberattack on OGCC.
FalconFeedsio shared the below post following the cyberattack on OGCC's website: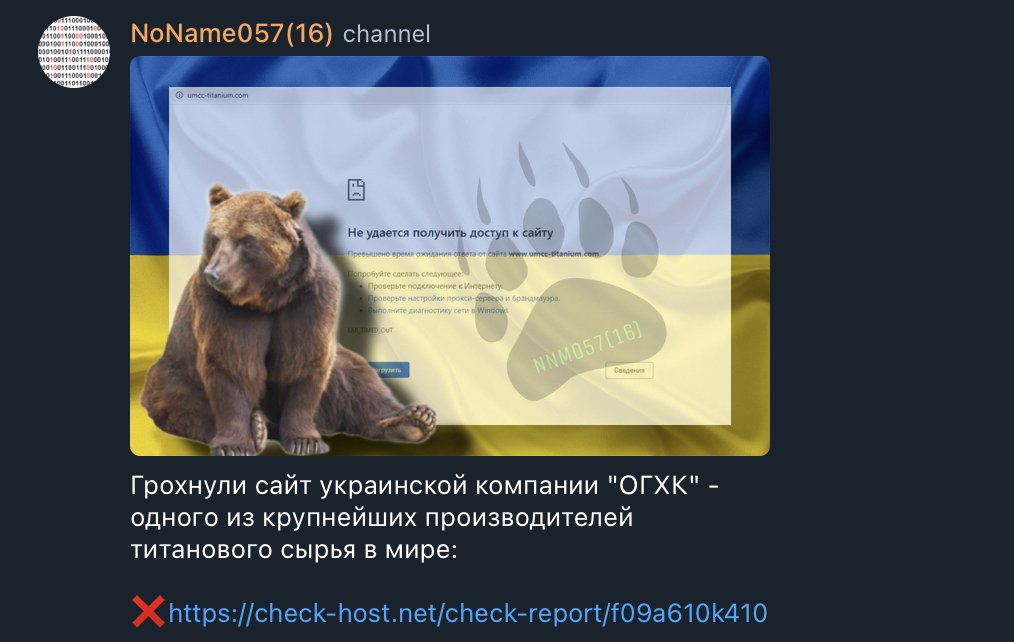 Ukraine Cyberattacks: NoName targets pro-Ukrainian companies
The cybercriminal group has attacked several pro-Ukraine nations in the past to show its solidarity with Russia. NoName has been targeting entities that belong to Ukraine since June 2022.
In March, NoName targeted European logistics and transportation companies Vlantana and UAB RUSKO. Their websites were inaccessible following the attack, which hindered operations.
The hacker collective also claimed to attack the Italian military last December. "Decided to punish Italy's military e-learning system – made a real website fall," NoName wrote in a Telegram group post.
Moreover, NoName has also claimed to attack Japanese organizations after the country imposed sanctions against 48 Russian individuals and 73 organizations.
The group has targeted several Japanese organizations including Petroleum Association of Japan and East Japan Railway Company to show support for Russia.
The website of the Japanese organizations was inaccessible soon after the cyberattack. In addition, the group posted that Japan's assets would be frozen and financial transactions 'limited.'
NoName is known to employ phishing emails and malware to target users. They have launched DDoS attacks on entities in Danish, Polish, Norwegian, Finnish, and Czech regions among others.
The group has also targeted government agencies, and media companies in Ukraine, the United States of America, and European nations.
In the past, the hacker collective has also sent threatening letters to Ukrainian journalists.
Ukraine cyberattacks by Pro-Russia hackers
Several pro-Russia cybercriminal groups such as Killnet, Hive, and NoName have targeted various hospitals and government websites in the past.
US President Joe Biden had predicted large-scale cyberattacks from Russian groups in a statement released by the White House in March last year saying, "Russia could conduct malicious cyber activity against the United States."
Several groups have launched cyberattacks against pro-Ukraine entities which stress the need to 'harden your cyber defenses' as the U.S. President stated in the statement.
All eyes are on the budget which is to be released this Thursday and will reflect how cybersecurity efforts will be funded.