ThreatSec hackers have claimed responsibility for launching new cyberattacks on various Indian organizations. The recent ThreatSec cyberattacks also include an alleged breach of the esteemed Indian Ministry of Education University. 
A staggering 64,128 files containing sensitive data have been compromised in this latest cyberattack. As part of their broadcast, the group listed the affected domains on their dark web channel. 
ThreatSec Cyberattacks Targeted India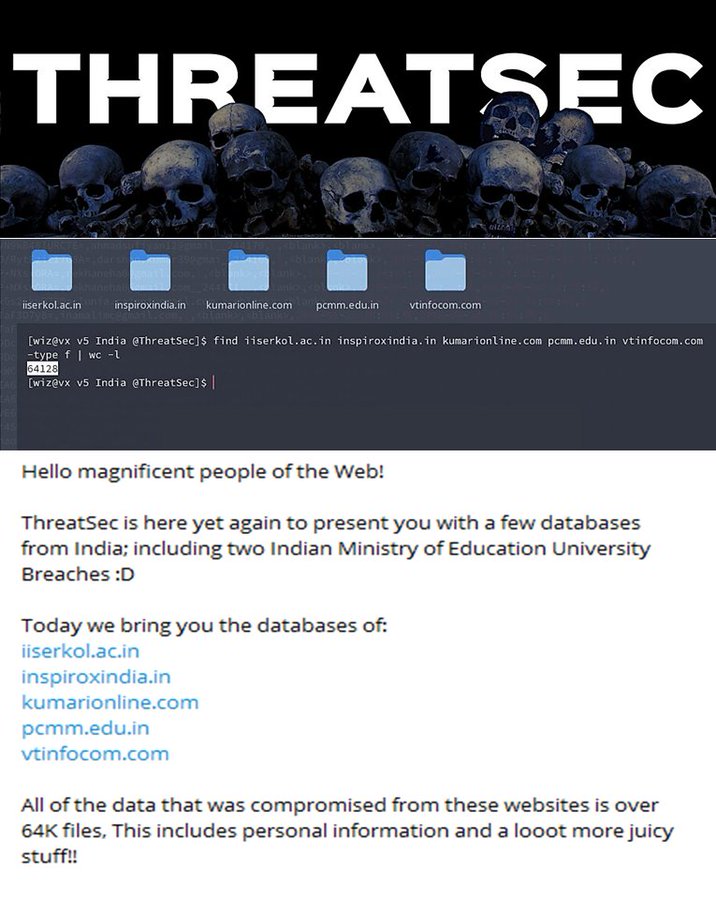 These ThreatSec cyberattacks have listed five companies.
The alleged victims include Iiserkol.ac.in, Inspiroxindia.in, Kumarionline.com, Pcmm.edu.in, and Vtinfocom.com. All of these victims are Indian organizations — while some are part of the Indian government, others are privately owned entities.
"Hello magnificent people of the Web! ThreatSec is here yet again to present you with a few databases
from India; including two Indian Ministry of Education University Breaches," reads the threat actor post.
The Cyber Express, in order to learn more about these ThreatSec cyberattacks, has reached out to the alleged victim companies. However, at the time of writing this, no official statement or response has been received from the company. 
The actors behind the ThreatSec hacker group boasted about their haul, which encompasses a trove of personal information and other potentially compromising material.
From holding the G20 Summit to being one of the fastest-growing democracies in the world, India has become a prime target for hackers, who employ new and improved techniques to target the nation. 
Cyberattacks on India: What we should know!
The ThreatSec cyberattacks only show the tip of the iceberg as these attacks go deep down into the rabbit hole. An increased level of vigilance against hackers and cyberattacks is more crucial than ever, especially in a region that has been hit particularly hard by cybercrime.
According to a recent report by Business Standard, Asia experienced a disproportionate share of cyberattacks, accounting for a staggering one in four attacks worldwide. India, alongside Japan and Australia, ranked among the most targeted nations in the continent.
Notably, server access attacks and ransomware emerged as the two most prevalent attack vectors, comprising 20 percent and 11 percent of attacks, respectively. IBM's X-Force Threat Intelligence team highlighted these findings, emphasizing that Asian organizations were adept at quickly spotting and neutralizing attacks before they escalated. Both remote access trojans and adware accounted for 9 percent of attacks in the fourth spot.
In terms of targeted sectors, financial and insurance institutions faced the most cyberattacks, constituting 30 percent of cases.
Manufacturing entities followed closely behind, comprising 29 percent of incidents. Professional and business services, as well as transportation, experienced comparatively fewer attacks, at 13 percent and 10 percent, respectively.
As cyber threats continue to proliferate, fortifying cybersecurity measures and remaining aware of the tactics of threat actors have become imperative for organizations across the globe, particularly in regions like Asia where the stakes are high.
Media Disclaimer: This report is based on internal and external research obtained through various means. The information provided is for reference purposes only, and users bear full responsibility for their reliance on it. The Cyber Express assumes no liability for the accuracy or consequences of using this information.