Tata Tele Business Services, a subsidiary of the prestigious Tata Group, has reportedly fallen victim to a data breach orchestrated by the notorious LockBit ransomware group.
Claiming the Tata Tele Business Services data breach, the threat actor listed the firm on their dark web portal, asserting responsibility for the cyberattack on the Tata Group's subsidiary company.
Furthermore, according to the threat actor's post, the alleged Tata data breach had a specific deadline.
They asserted that the organization had until October 14, 2023, 15:19:59 UTC, before the data was scheduled for publication.
Decoding Tata Tele Business Services Data Breach Claims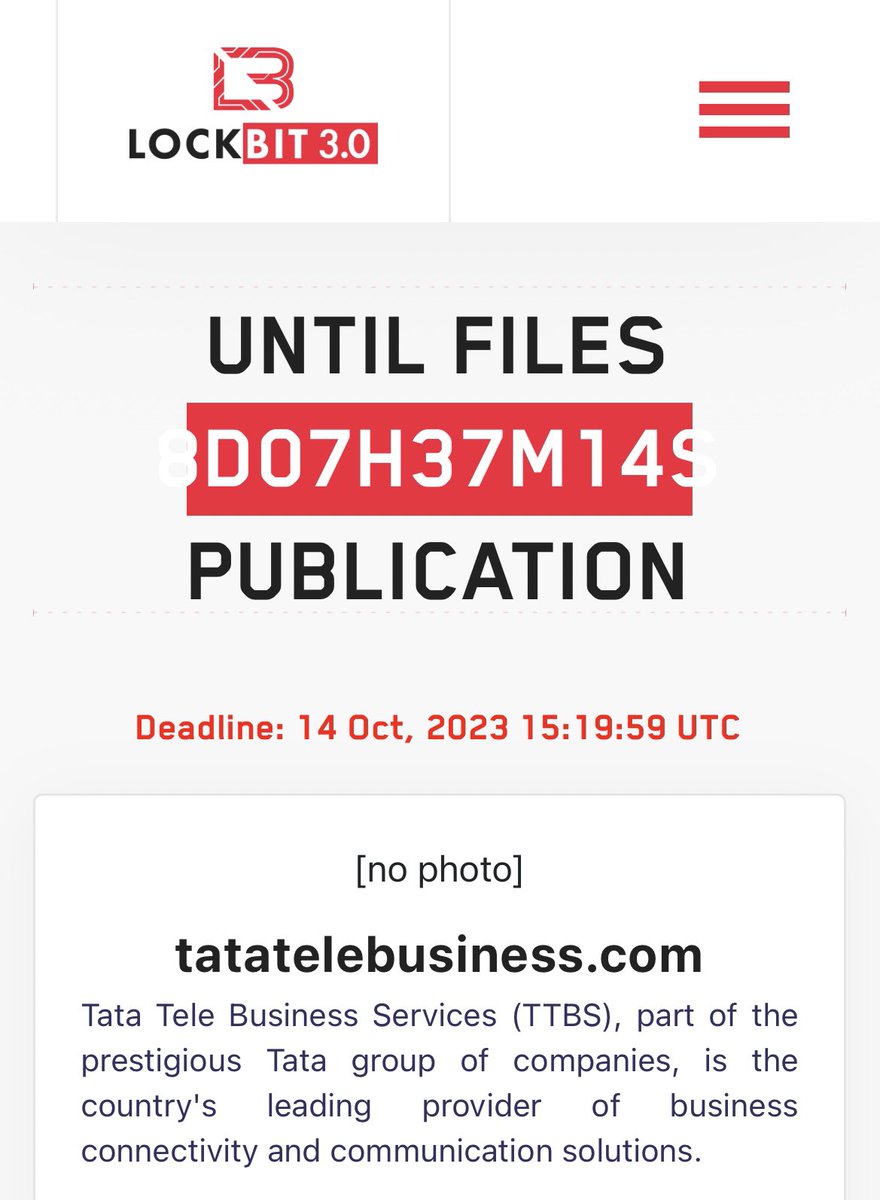 The Tata Group, comprising 29 publicly listed companies and boasting a workforce of over a million individuals, has long been a pillar of India's industrial landscape.
Among its diverse portfolio, Tata Tele Business Services (TTBS) has emerged as a leader in providing business connectivity and communication solutions.
The Cyber Express, in an attempt to get more insights into this alleged Tele Business Services breach, reached out to the firm. However, at the time of writing this, no official statement or response has been recorded, leaving the claims of the cyberattack on TATA unconfirmed. 
This Tata Tele Business Services breach incident, however, is not an isolated one for the Tata conglomerate.
A report from September 2022 sheds light on LockBit's resurgence, highlighting its robust infrastructure and determination to escalate its operations. 
The LockBits ransomware operation, led by the public-facing figure LockBitSupp, declared an enhanced capability to withstand DDoS attacks, signaling a shift towards a triple extortion strategy.
Previous Cyberattack on TATA and LockBit reports 
In response to the LockBit menace, several prominent cybersecurity entities, including the Cybersecurity and Infrastructure Security Agency (CISA), the Federal Bureau of Investigation (FBI), and the Multi-State Information Sharing and Analysis Center (MS-ISAC), have joined forces to issue a comprehensive Cybersecurity Advisory (CSA). 
A reminder of the vulnerability of critical infrastructure was the revelation that state-sponsored hackers exploited a deprecated web server to target India's energy infrastructure, with Tata Power becoming a victim in October. Tata Power, in a candid admission, disclosed a cyberattack on its IT infrastructure.
While the company assured that its critical operational systems remained unaffected, the attack was attributed to the Hive ransomware group. This group has left a trail of over 1,300 victimized companies worldwide, amassing approximately $100 million in ransom payments.
The decentralized nature of this operation leads to a diverse range of tactics, techniques, and procedures (TTPs) observed in LockBit ransomware attacks. This variability poses a big challenge for organizations striving to fortify their network security against LockBit and its affiliates.
Media Disclaimer: This report is based on internal and external research obtained through various means. The information provided is for reference purposes only, and users bear full responsibility for their reliance on it. The Cyber Express assumes no liability for the accuracy or consequences of using this information.