Months after the ALPHV ransomware group added the Armed Forces of Ecuador to its victim list, KelvinSecurity put presidential and armed files of Ecuador up for sale on the hacker forum.
The post on the hacker forum claimed to have 2.29 GB of files from the Ecuador Armed Forces data breach. The information was on sale, with 2.29 GB of data belonging to the presidential data and nearly 5.49 GB of Armed Forces.
However, the claim and the authenticity of the Ecuador Armed Forces Data breach is yet to be verified, FalconFeedsio tweeted.

The hacker forum post mentioned 2022-2023 as the date likely pointing toward the timeline of the alleged hacking of the Ecuador government websites.
KelvinSecurity posted that the Ecuador presential data had nearly 8,622 files and the Armed Forces data had 20,905 files on sale.
ALPHV/ BlackCat's post following Ecuador Armed Forces data breach
The Russian ALPHV ransomware group added data from the Joint Command of the Armed Forces of Ecuador to their leak site on 26 October 2022.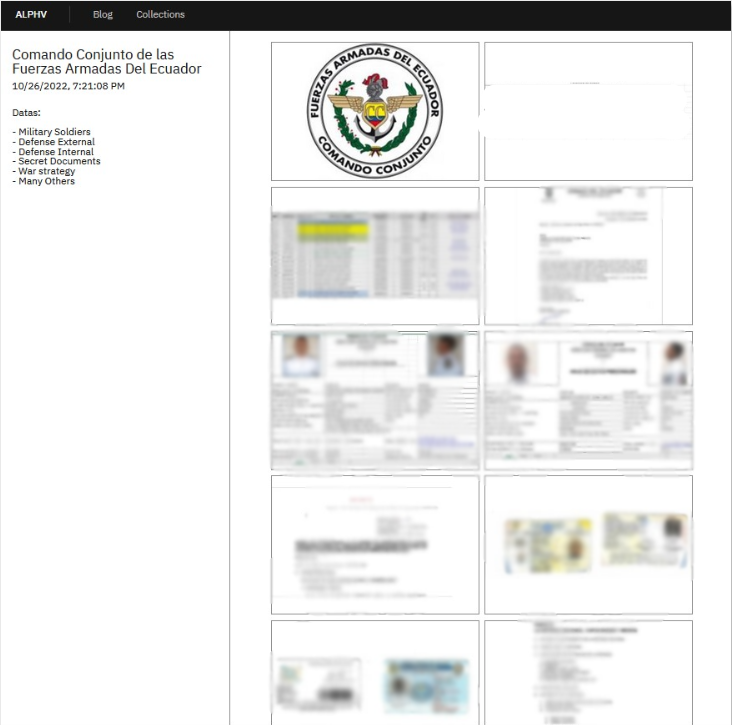 The leak site post claimed to have stolen information about the military soldiers, defense external, defense internal, data marked as secret documents, and war strategy, among others.
The group claimed to have data from Fuerzas Armadas Del Ecuador Comando Conjunto (The Joint Command of the Armed Forces of Ecuador).
Cyberattacks targeting South American government entities
Conti ransomware group launched a cyberattack against Costa Rica's government systems that disrupted the services of 27 government institutions. Conti threatened to overthrow the country's government if the demands were not met.
The group demanded double the ransom that they had asked initially to $20 million. To this, the President of Costa Rica Rodrigo Chaves replied by announcing that the officials are forming a SWAT team to try and end the problems.
A study showed that Ecuador suffered the highest number of cyberattacks via mobile internet users in the 2nd quarter of 2022. Brazil was second in line closely followed by Argentina and Mexico in a study about cyberattacks in Latin America.
Army General Laura Richarson, spoke about Chinese extension of its space monitoring station near the Straits of Magellan as a threat that may also monitor other activities in the region.
She was speaking with the members of the Public Force of Costa Rica, last month when she expressed concerns about recent Chinese actions including financing a $3 billion container post and buying lithium mining operation in the South American nations.