The BlackSuit ransomware group added the name of the government of Brazil to its victim list. In a message posted on their dark web portal, BlackSuit claimed the Government of Brazil cyberattack. However, the Government of Brazil portal had no mention of any cybersecurity incidents posted recently.
The portal gov.br was accessible when checked by The Cyber Express post the alleged Brazilian Government ransomware attack.
Government of Brazil Cyberattack
The BlackSuit ransomware group posted a small description of the business information of Brazil in the Government of Brazil ransomware attack post. The ransomware group made a note of the number of employees working for it namely 2,001 to 5,000 individuals.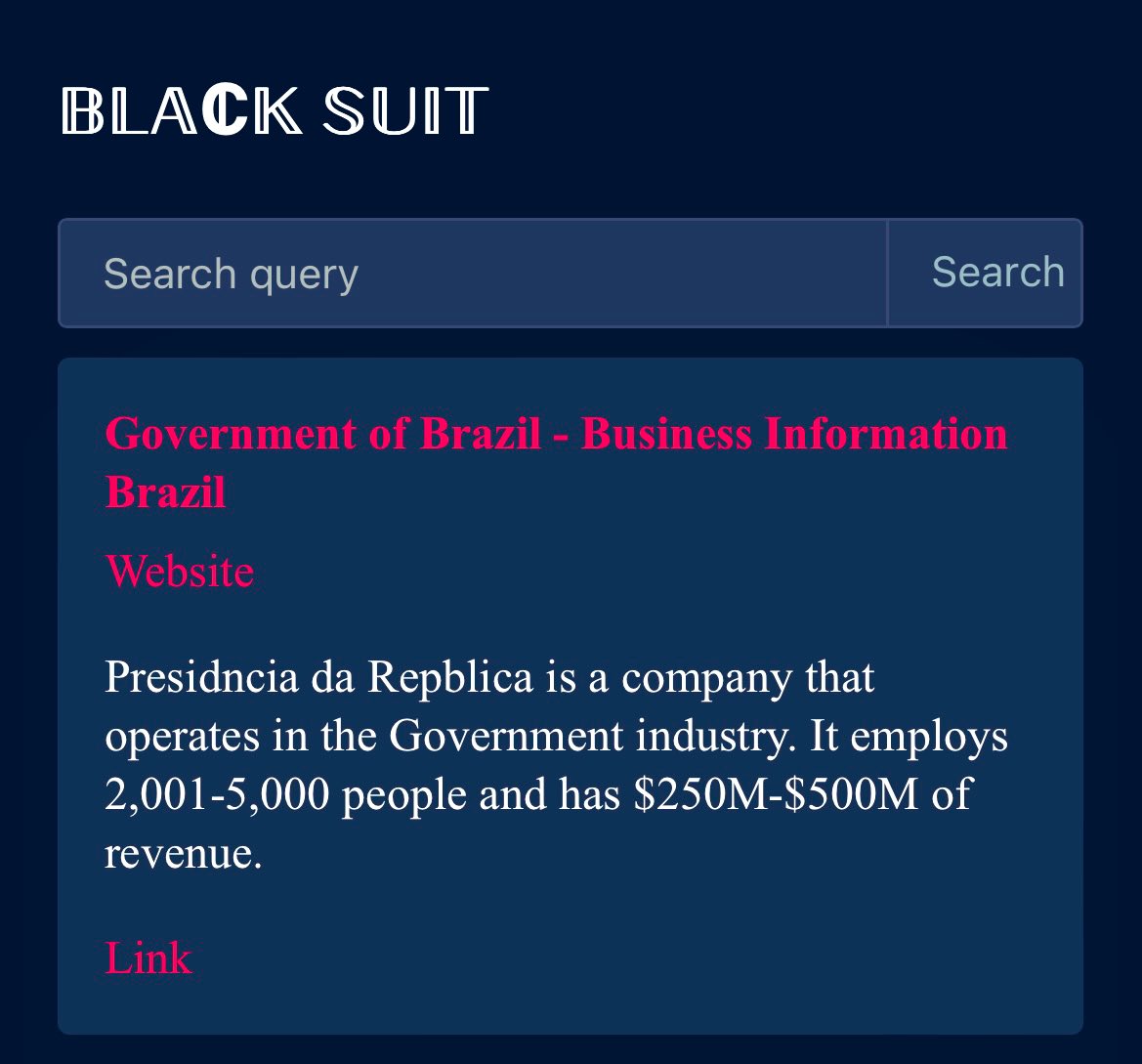 And mentioned that they have a revenue of $250million to $500million in the Brazilian Government ransomware attack post.
However, it had no mention of the amount BlackSuit demanded in ransom or the data pilfered by them, if any after the Government of Brazil cyberattack.
Cybersecurity Analyst Dominic Alvieri tweeted about the incident by writing, "Black Suit aka Royal Ransomware posted a division of the Government of Brazil. Details to follow…'
Brazilian Government Cyberattack by BlackSuit
BlackSuit has been researched extensively by cybersecurity experts and analysts for its transition and encryptor.
After the voluntary shutdown of the Conti ransomware servers in 2022, they announced that they would rebrand themselves. They were earlier a part of the Ryuk ransomware group.
With its well-known organizational systems, business model, skilled operators, and partnerships, the hackers caused havoc on organizations.
One example is the Costa Rican government announcing a national emergency after suffering a cyberattack at the hands of the Conti ransomware group in 2022.
Conti formed a few smaller units including for the sake of more mobility and evasion of law enforcement via their smaller cells working under a leader.
Conti partnered with BlackByte, BlackCat, seized Hive, HelloKitty, and AvosLocker among others.
Security Studies Expert Yelisey Bohuslavskiy shared insights about Conti ransomware group which led to the creation of the Royal ransomware group. Royal deployed BlackSuit lockers with others.
Government of Brazil Cyberattack and the Cybersecurity Woes of Brazil
Cybersecurity has been a growing concern for the government of Brazil. The Brazilian President Luiz Lula da Silva discussed an agenda to reform domestic cyber governance.
Keeping the fact that Brazil remains one of the top targets of hackers, it was found that organizations in the country lacked the internal expertise that was necessary to tackle cyber risks.
Media Disclaimer: This report is based on internal and external research obtained through various means. The information provided is for reference purposes only, and users bear full responsibility for their reliance on it. The Cyber Express assumes no liability for the accuracy or consequences of using this information.