Fenn Termite & Pest Control Inc. has fallen victim to an alleged cyber attack by the 8BASE ransomware group.
The Fenn Termite & Pest Control breach potentially compromises sensitive information, including invoices, receipts, accounting documents, personal data, certificates, employment contracts, and much more.
The threat actor announced the Fenn Termite & Pest Control breach via a dark web post, where it boasted about targeting the company and having access to confidential data about the company.
Fenn Termite & Pest Control breach, targeting a trusted name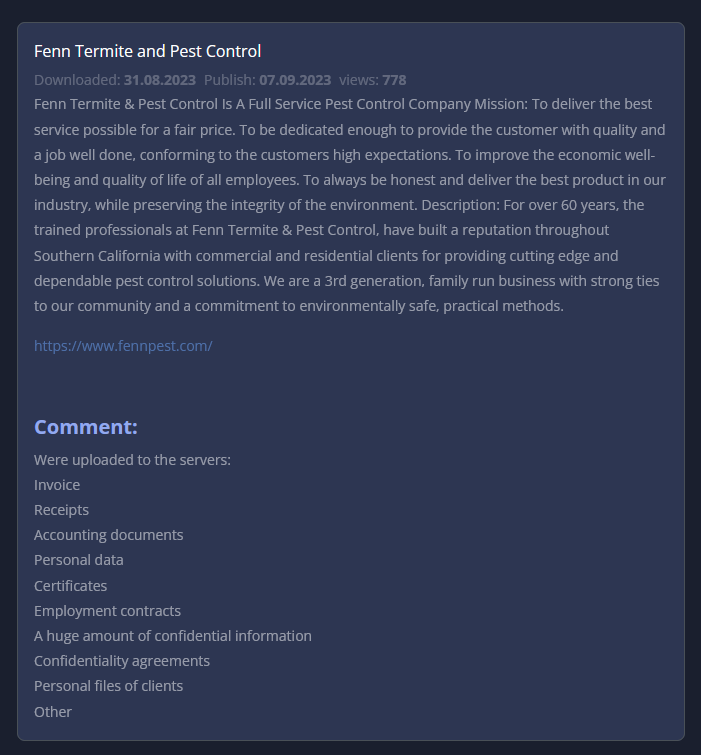 For over six decades, Fenn Termite & Pest Control Inc. has established itself as a trusted provider of pest control solutions in Southern California.
As a third-generation, family-run business deeply rooted in the community, the company has always prioritized environmentally safe and effective pest control methods.
However, this Fenn Termite & Pest Control breach risks the company image, targeting sensitive documents about the company and its clients.
The threat actor claimed to responsibility for infiltrating Fenn Termite & Pest Control's systems.
They assert having access to a trove of sensitive data, including confidential information, personal files of clients, and more. The breach, if confirmed, poses a significant threat to the company and its customers.
In light of Fenn Termite & Pest Control breach, The Cyber Express reached out to the company for an official statement. Regrettably, at the time of writing this, the company has not provided any official response.
8BASE Ransomware Group Claims Fenn Termite & Pest Control breach
The 8BASE ransomware group has recently gained notoriety for its malicious activities despite remaining relatively unknown until now.
Their modus operandi involves encrypting victim data and employing a "name-and-shame" strategy to coerce victims into paying ransoms. This ransomware group has targeted diverse industries, indicating a pattern of opportunistic compromise.
Notably, while information regarding 8BASE's identity, methodology, and motivations remains elusive, their increasing number of successful cyber attacks raises concerns about their capabilities and intentions, with the Fenn Termite & Pest Control breach being a prime example of its reach. 
The 8BASE ransomware group emerged in March 2022 but saw a significant surge in activity in June 2023.
Describing themselves as "simple pen testers," they communicate with victims through FAQs and rules sections on their leak site. Interestingly, their communication style bears a striking resemblance to another notorious group, RansomHouse.
Despite not being a new entity, 8BASE's recent spike in activity places it among the top-performing ransomware groups. Little is publicly known about their ransomware except that it appends encrypted files with the ".8base" extension, leaving victims in a state of vulnerability and uncertainty.
The situation is fluid, and the true extent of the Fenn Termite & Pest Control breach remains to be seen. The Cyber Express will continue to monitor developments closely and provide updates as new information becomes available. 
Media Disclaimer: This report is based on internal and external research obtained through various means. The information provided is for reference purposes only, and users bear full responsibility for their reliance on it. The Cyber Express assumes no liability for the accuracy or consequences of using this information.