Continuing a series of attacks on banking giants, Anonymous Sudan has claimed responsibility for a cyber attack on Wells Fargo's website. In a post on their dark web channel, the threat actor posted evidence of the alleged Wells Fargo data breach.
According to the threat actor post, Wells Fargo, a multinational financial services company operating in 35 countries and serving over 70 million customers worldwide, faced an outage caused by a new Wells Fargo data breach.
However, these claims of a cyber attack on Wells Fargo have not been verified as of yet.
In an effort to obtain further information regarding the alleged cyber attack on Wells Fargo, The Cyber Express contacted the company.
As of the time of writing, no official statement or response had been received, thus leaving the claims of this cyber attack on Wells Fargo unverified.
Anonymous Sudan claims responsibility for Wells Fargo data breach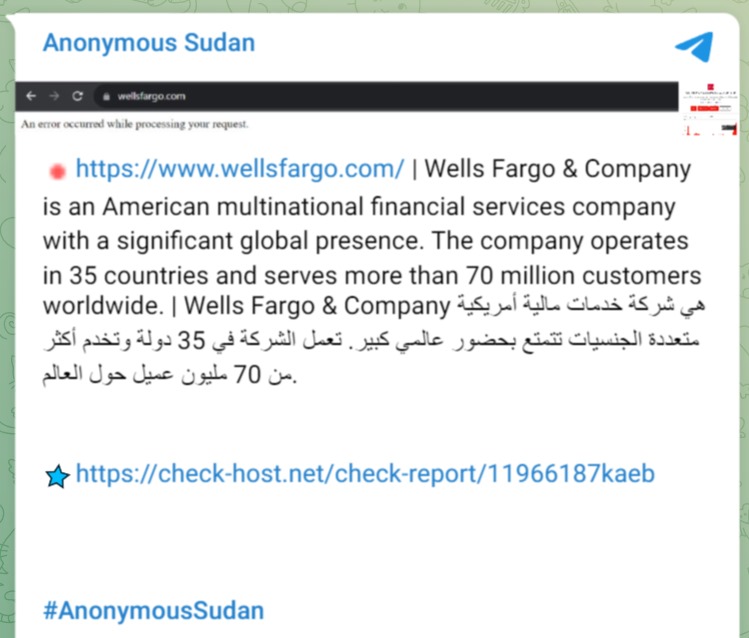 The notorious hacker group Anonymous Sudan claimed the Wells Fargo data breach. The group consists of religiously motivated hackers driven by political motives executing denial-of-service attacks against Western nations. 
However, Wells Fargo data breach is not an isolated event.
From 2008 to 2017, the financial institution have faced many threats, and multiple threat actors claims responsibility for cyber attack on Wells Fargo.
In 2008, a Wells Fargo access code was exploited to pilfer the personal information of around 5,000 consumers. This Wells Fargo data breach prompted a comprehensive investigation by the bank.
In 2017, Wells Fargo was embroiled in another controversy when it was revealed that more than 3.5 million accounts may have been opened without customer authorization.
This incident followed a third-party investigation dating back to 2009. Initially, the bank estimated that 2.1 million accounts were unauthorized, but this number was later revised upward.
The fallout from these incidents was significant. Wells Fargo had to reimburse affected customers, paying $6.1 million in refunds for fees charged to unauthorized accounts. Fake accounts were created due to immense pressure on employees to meet daily quotas.
This led to the termination of over 5,300 employees and prompted a public apology from the bank's CEO, Tim Sloan, expressing regret for the harm caused by unacceptable sales practices.
Anonymous Sudan hacking spree
The Cyber Express previously reported on the inner workings of Anonymous Sudan.
Since January, Anonymous Sudan has been a prominent player, consistently making headlines worldwide. Its operations have thus far focused on targeting countries such as Sweden, Netherlands, Denmark, Australia, France, Israel, US and Iran.
Recent findings regarding the origins of Anonymous Sudan point towards a connection with the pro-Russian hacktivist group Killnet.
This affiliation was officially confirmed in February 2023, though the extent of their association is still under scrutiny.
Additionally, available evidence strongly suggests that Anonymous Sudan may be Russian state-sponsored actors posing as Sudanese individuals driven by Islamist motives, using this facade to carry out operations against Western or Western-aligned targets.
Despite attempts to conceal their identity and alliances on official Anonymous Sudan channels, their use of social media and public-facing profiles under the "hacktivist" label aligns with established tactics employed by Russian state-sponsored hackers.
Anonymous Sudan has also participated in large scale hacking campaigns, often regulated by Russian hackers groups with a specific agenda to promote Pro-Russian movement. 
However, the threat actors and its members are still shrouded in mystery as no particular individual or groups has been arrested or apprehended by authorities. This leaves the exact identity of the threat actors unconfirmed.
Media Disclaimer: This report is based on internal and external research obtained through various means. The information provided is for reference purposes only, and users bear full responsibility for their reliance on it. The Cyber Express assumes no liability for the accuracy or consequences of using this information.