In a recent development in the cybersecurity news, the infamous NoEscape ransomware group has claimed responsibility for Waterloo Media data breach. As of now, the company's website remains inaccessible, showcasing the extent of the breach.
Waterloo Media, the proud owner of eight radio stations in Austin, Texas, including the popular ESPN 102.7, prides itself on a team of seasoned professionals deeply passionate about music and dedicated to innovative marketing strategies.
Despite the big claims, the authenticity of this Waterloo Media data breach is yet to be verified. 
A closer look at Waterloo Media data breach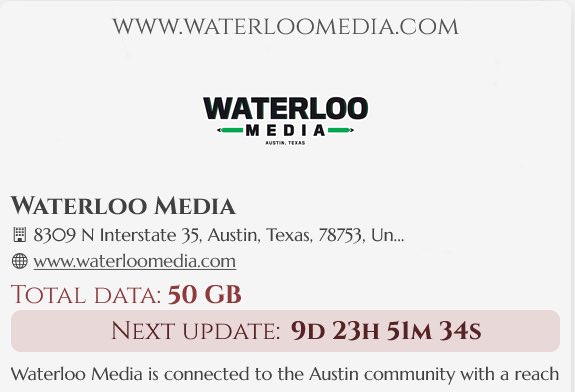 Upon reaching out to Waterloo Media for further details on the breach, The Cyber Express encountered difficulties accessing the company's website, a clear indication of the severity of the situation.
While it's premature to directly attribute the downtime to the NoEscape ransomware group, the Waterloo Media homepage currently displays a 502 Bad Gateway error.
The threat actor responsible for this attack, the NoEscape ransomware group, is notorious for its aggressive pursuit of sensitive information. With a reputation for nefarious activities, this collective has become a significant player in the cybersecurity landscape.
NoEscape ransomware emerged in May of 2023, introducing itself as a Ransomware-as-a-Service (RaaS) entity. What sets them apart is their insistence on constructing the malware and its infrastructure entirely from scratch, avoiding the use of source code or leaks from existing ransomware families. 
This commitment to originality has allowed them to offer a comprehensive platform for affiliates to create and manage tailored ransomware payloads for both Windows and Linux systems.
NoEscape is further distinguished by its multi-extortion tactics. The group operates a TOR-based blog where they publicly list their victims and showcase exfiltrated data from those who resist complying with their demands. 
Similar data breaches on media companies in the past
Apart from this Waterloo Media data breach, the film and media industry has become the prime target for hackers.
"Media companies are some of the most visible targets on the cyber threat landscape, and there are several reasons why criminals seek to take advantage of them," says Fortinet. 
Unlike the previous decades, where hardware used to be a big part of movies, media, and content, the film industry is rapidly adopting digitization. This adaptation of technology has given rise to new vulnerabilities which threat actors can exploit. 
Financial losses incurred from cyber attacks encompass ransom payments, legal penalties, remediation costs, and disrupted revenue streams. These cumulative impacts can severely strain the industry's financial health.
The industry's prominence as a target for cybercriminals is driven by the immense value of intellectual property and personal data it handles. The 2014 cyber attack on Sony Pictures serves as a timeless example of this vulnerability.
The industry's fragmentation, characterized by numerous small-scale entities, presents challenges in implementing consistent cybersecurity practices. Additionally, the creative work environment, often remote and reliant on personal devices, introduces an added layer of vulnerability.
Complex projects in the film and media industry necessitate extensive collaboration, leading to increased sharing of sensitive information. This dynamic elevates the risk of cyber attacks. Recognizing and addressing these specific vulnerabilities is crucial in fortifying the industry's resilience against cyber threats.
Media Disclaimer: This report is based on internal and external research obtained through various means. The information provided is for reference purposes only, and users bear full responsibility for their reliance on it. The Cyber Express assumes no liability for the accuracy or consequences of using this information.