Several Indonesian news media websites have allegedly fallen victim to a new threat actor. The notorious hacking group VulzSec has claimed responsibility for defacing official news websites, including http://actanews.co.id, http://p-news.id, and http://wartopolosoro.id. 
VulzSec attacks news websites and later announces it through the group's official channel, VulzSec Official, accompanied by the hashtags #StopHoax and #VulzSec.
Threat intelligence service Falcon Feed promptly shared the news and a screenshot of the threat actor's post, boasting about the successful defacement of three popular Indonesian news media websites.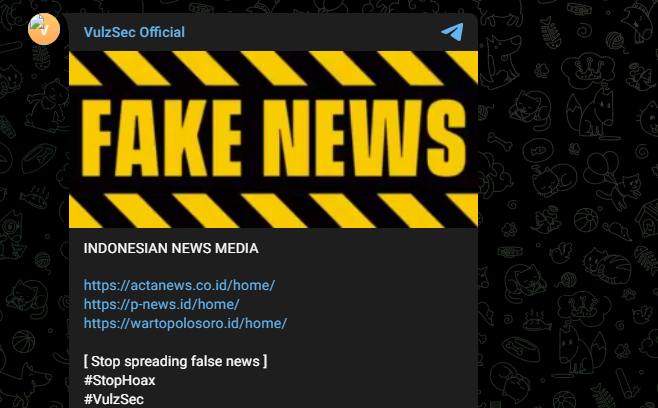 VulzSec Attacks Popular Indonesian News Media, Targets India
Following VulzSec's attack on Indonesian news media, The Cyber Express reached out to the affected parties to gather their insights. However, at the time of writing, none of the news publications has issued an official statement or responded to the claimed attacks. 
Within this timeframe, hacker groups associated with VulzSec operating under the cloak of hashtags #OpIndia and #OpIndia23 launched a relentless attack on multiple Indian entities starting with iteonline.org.in, bcte.org.in, and many more, reported Times Now.
This wave of attacks has targeted governmental and private sectors in India, utilizing distributed denial-of-service (DDoS) attacks that overwhelm websites with traffic until they crash. However, these DDoS attacks are just the tip of the iceberg.
The Indonesian hacking group, Team 177, has taken the cyber attacks spree to a new level by engaging in website defacement.
This technique, akin to digital graffiti, involves hackers altering the visual appearance of a site to convey a political or threatening message. It represents a shift from mere disruption to leaving a lasting mark on the targeted websites, demonstrating the hackers' audacity and growing sophistication.
The list of victims include iteonline.org.in, bcte.org.in, pgims.org.in, excellentonline.org.in, gasptti.net, cteonline.org.in, aninditaonline.org.in, and ainonline.org.in. 
VulzSec claims more victims in India
VulzSec further escalated the situation by leaking sensitive data from multiple Indian companies, banks, and educational facilities.
The group has reportedly targeted numerous Indian websites, including Indianbank.in, Centralbankofindia.co.in, and the Education and Research Network of India (ERNET.in).
These malicious actors have allegedly accessed and exposed sensitive data, creating a treasure trove of information that could have far-reaching consequences.
As the investigation into the VulzSec attacks on Indonesian News Media websites unfolds, the affected parties must address the situation promptly and communicate transparently with their users.
Restoring the websites to their original state and reinforcing security measures should be a top priority. Additionally, authorities must work closely with cybersecurity experts to identify the perpetrators and bring them to justice.
Media Disclaimer: This report is based on internal and external research obtained through various means. The information provided is for reference purposes only, and users bear full responsibility for their reliance on it. The Cyber Express assumes no liability for the accuracy or consequences of using this information.