Stanley Electric US was allegedly breached by the Royal ransomware group according to a leak site post published by the group.
In the post, the group stated that they had access to over 2 TB of confidential company data following the alleged Stanley Electric ransomware attack.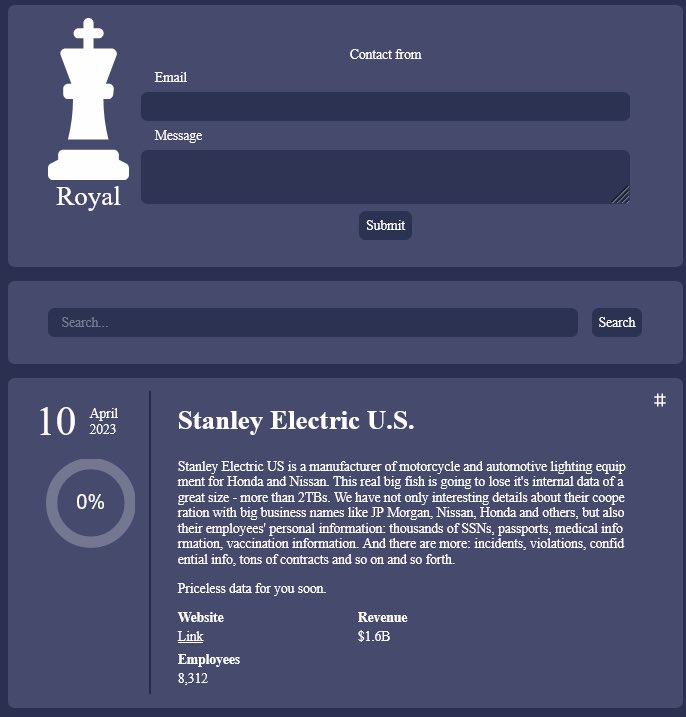 Stanley Electric Ransomware Attack
Cybersecurity researcher Dominic Alvieri tweeted a screenshot of the Stanley Electric ransomware attack post where the hacker collective stated that they would be leaking the stolen information soon.
"This real big fish is going to lose its internal data of a great size – more than 2TBs," read post. Royal ransomware group also mentioned that they have "interesting data" about the company's clients.
They listed JP Morgan, Nissan, and Honda as some of the clients of the company.
The group also claimed to have employees' personal information including thousands of Social Security Numbers and threatened to leak passport details, medical information, and vaccination data in the future.
While there has been no mention of a ransom demand, the threat to leak the information may be looked as a way to pressurize the company into paying.
The post concluded with a statement that read, "Priceless data for you soon.
Royal ransomware group
The Royal ransomware group has been evolving and adopted newer tactics while continuing some of the old methods that helped them conduct cyberattacks.
Royal ransomware group targeted critical infrastructure, healthcare, and education sector in the past. They often interact with targets via phishing emails. Hence, officials urged users not to open suspicious or spammy emails.
Over 66.7% of times, the initial access was gained through phishing emails with malware that the users downloaded and installed. Malvertising and infected PDF documents were sent to users that seemed legitimate.
Stanley Electric
Stanley Electric Co. Ltd. was founded in 1920 and is headquartered in Tokyo, Japan. The company manufactures automotive equipment, electronic components (LED, LCD), and LED Lighting Products among others.
The company has business in several countries with some of the most prominent client bases whose data is threatened through the alleged Stanley Electric ransomware attack.