The Anonymous Sudan hacker group has purportedly targeted PayPal in what they've dubbed "Just a Test" cyberattack. The threat actor took to their Telegram channel to announce the PayPal cyberattack.
While Anonymous Sudan asserts their claims of the PayPal cyberattack, the payment platform's website continues to function without any immediate indicators of a breach. 
Nevertheless, the hacker group insists that their assault has resulted in the display of an "Error 503 First Byte Timeout" message, along with an Error 54113.
PayPal cyberattack claims: Anonymous Sudan claims responsibility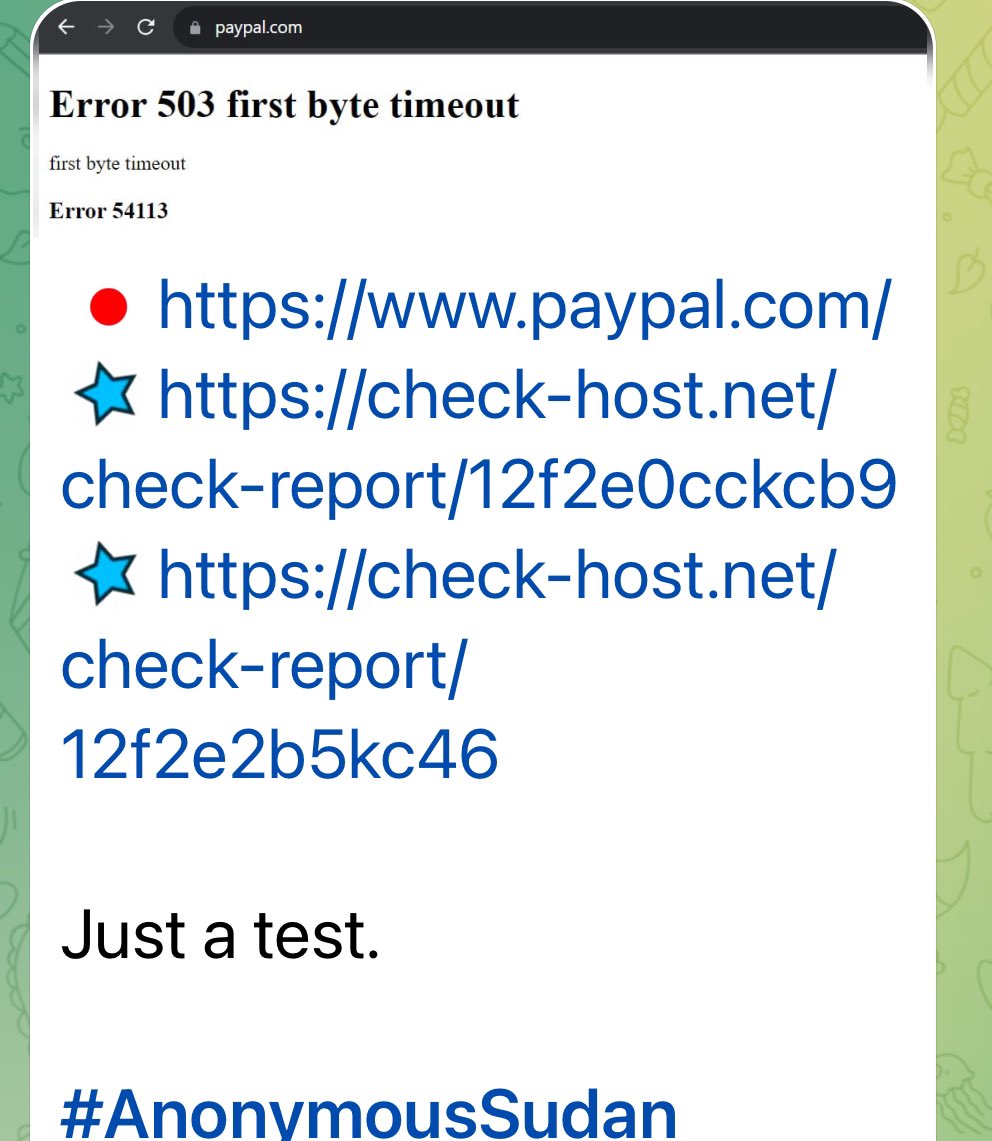 To substantiate their claims, they've shared a Check-Host link, a move that underscores their confidence in the attack's success. Moreover, it's worth noting that encountering an "Error 503 First Byte Timeout" is not uncommon following a cyberattack. Such attacks can overwhelm a website's server, disrupting its standard operations and causing delays in server response times.
Cyber assaults like Distributed Denial of Service (DDoS) attacks, which inundate a server with an excessive volume of requests, often lead to server overload and extended response times. Furthermore, specific attack methods that focus on a website's infrastructure or exploit vulnerabilities in its code can similarly disrupt normal server operations, potentially resulting in delays in response times and triggering this specific error.
The Cyber Express sought to confirm the claims made by the Anonymous Sudan hacker group with PayPal. However, as of the time of writing, no official statement or response has been received, leaving the allegations surrounding the PayPal cyberattack unverified.
Previous PayPal cyberattacks 
Regrettably, this is not the first security incident PayPal has faced in 2023. In January of the same year, the company alerted thousands of its customers to a breach that exposed sensitive information, including Social Security Numbers and other critical personal details.
According to PayPal's communication, affected users were notified on January 18th through an email. The message explained, "Based on PayPal's investigation to date, we believe that this unauthorized activity occurred between December 6, 2022, and December 8, 2022, when we eliminated access for unauthorized third parties.
During this time, the unauthorized third parties were able to view, and potentially acquire, some personal information for certain PayPal users."
Media Disclaimer: This report is based on internal and external research obtained through various means. The information provided is for reference purposes only, and users bear full responsibility for their reliance on it. The Cyber Express assumes no liability for the accuracy or consequences of using this information.