The team-based gaming platform League of Legends EUW found itself at the center of a cyberattack, allegedly orchestrated by the hacktivist group Anonymous Sudan. 
The League of Legends cyberattack left players in the dark as the platform went down for a brief period, raising concerns about the security of one of the most popular gaming experiences.
As news of the League of Legends attack spread, Anonymous Sudan claimed responsibility for taking down League of Legends EUW, citing a motive that remains shrouded in mystery. 
The threat actors provided no specific details regarding their intentions, leaving the gaming community and cybersecurity experts puzzled about the reasons behind the League of Legends attack.
Anonymous Sudan alleges League of Legends cyberattack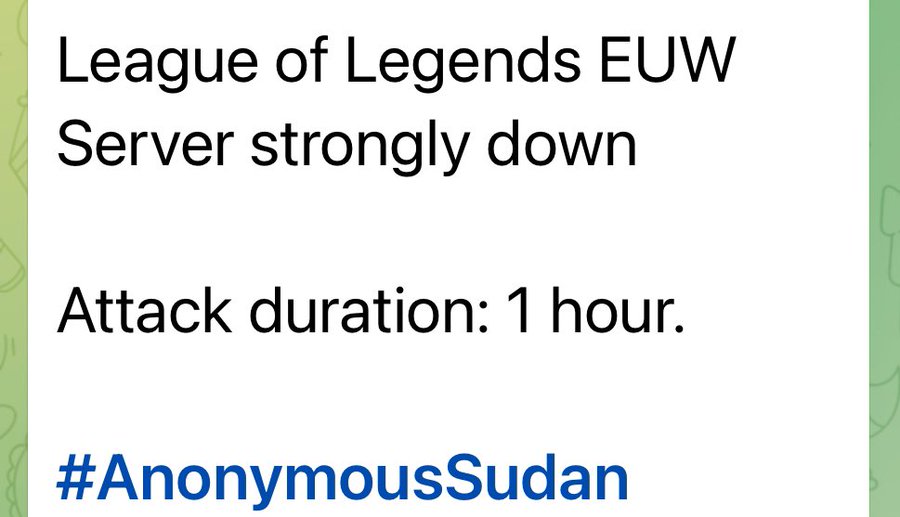 The Cyber Express sought to uncover the truth behind the League of Legends cyberattack claim by reaching out to the gaming platform for an official statement. 
However, as of the latest update, no response or confirmation has been received, leaving the claims of Anonymous Sudan unverified.
According to the alleged threat actor, the League of Legends attack resulted in a downtime of approximately one hour for the League of Legends EUW Server. 
Fortunately, the platform was successfully restored within this timeframe, allowing players to resume their gaming experiences. 
Riot Games, the developer behind League of Legends, and Tencent Holdings, the parent company, have not issued any statements regarding the reported attack.
League of Legends cyberattack: Previous instances 
This isn't the first time Riot Games has faced cybersecurity challenges. Earlier in 2023, Riot Games disclosed that the source codes for popular titles like 'League of Legends' and 'Teamfight Tactics' were stolen in a cyberattack.
Despite the source code breach, the company reassured players that no personal data or player information had been compromised. Riot Games acknowledged the potential for new cheats to emerge due to the exposure of the source code and pledged to address any security vulnerabilities promptly.
In contrast to the prolonged source code incident, the Legend of Legends EUW cyberattack was short-lived. However, questions linger about the evidence Anonymous Sudan might present and whether Riot Games will issue a formal response to these claims.
The Cyber Express remains committed to closely monitoring developments in the Legend of Legends EUW cyberattack saga and will provide updates as more information surfaces or an official confirmation is received from Riot Games.
Media Disclaimer: This report is based on internal and external research obtained through various means. The information provided is for reference purposes only, and users bear full responsibility for their reliance on it. The Cyber Express assumes no liability for the accuracy or consequences of using this information.