In a recent incident, a Pakistan-based organization has reportedly fallen victim to a cyber attack allegedly orchestrated by the ALPHV/BlackCat ransomware group. The hackers made their claim on their dark web portal, asserting responsibility for the IBL Healthcare Cyber Attack.
The organization has not confirmed the IBL Healthcare cyber attack, and the website was found operational during an assessment by The Cyber Express. The motives driving this incident remain undisclosed at this point.
IBL Healthcare cyber attack by BlackCat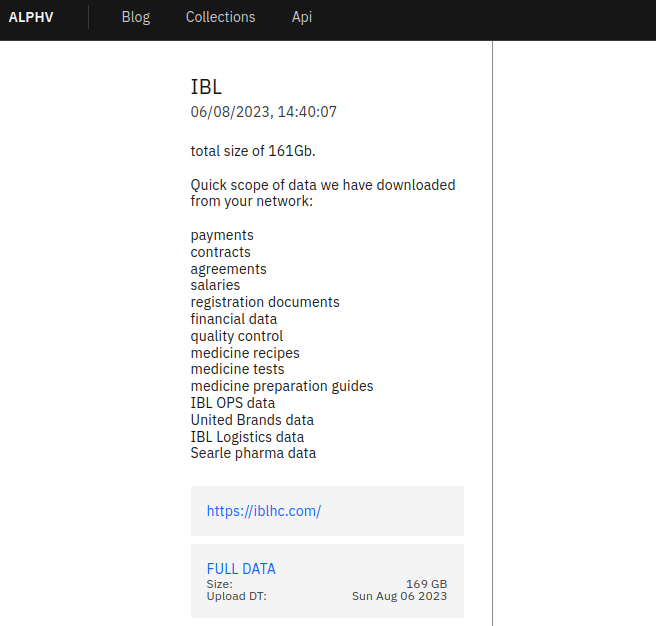 Founded in 1997, IBL Healthcare began its journey as a Private Limited Company. Over the years, it has forged valuable partnerships with industry leaders such as Nestlé, Mead Johnson, and Bausch and Lomb, among other notable collaborators.
ALPHV hackers have claimed that they have about 161 GB of data exfiltrated from the IBL Healthcare cyber attack. Besides medicine tests and receipts the hackers claimed they stole the following data from the IBL Healthcare cyber attack –
Salaries
Agreements
Contracts
Payments
Registration document
Financial data
Quality control
Medicine preparation guides
IBL OPS data
United Brands data
They also stated that they were in possession of IBL Logistics information and Searle pharma data. IBL Healthcare is a subsidiary of Searle Company Limited (TSCL). The said data from the alleged IBL Healthcare cyber attack was added to the dark web on August 6, 2023.
IBL Healthcare Attack Spotlights Sector's Cybersecurity Urgency
The healthcare sector is focused on providing life-saving care and has its staff hired based on job-related skills. However, with the increasing cyber attacks on healthcare, having an IT team that also looks after cybersecurity has become unavoidable.
According to research, cyber attacks are at an all-time high globally with the healthcare sector being one of the most targeted sectors in 2023.
"The healthcare sector is a common target for attacks, as stolen medical records give hackers a vast amount of information, such as people's names, dates of birth, addresses, and Social Security numbers," a With Persona report noted.
Another report stated that globally, on average, about 1,463 cyber attacks were witnessed in a week in 2022. A 74% increase in healthcare cyber attacks was found as compared to those in 2021.
Recent cyber assaults targeting the U.S. healthcare system, like the incident involving Prospect Medical Holdings, resulted in widespread disruptions across its facilities. This led to patients being unable to access emergency rooms and many incoming individuals not receiving the necessary assistance.
The U.S. has been targeted increasingly with 43% of the 1,900 ransomware attacks between July 2022 to June 2023 being from the U.S.
Hackers have been gaining access to government organizations and also intelligence firms showing that cybersecurity needs a stronger defense than ever before.
The Egyptian Health Ministry was also claimed in a cyber attack post on the hacker forum in July 2023.
Frederick Scholl, Quinnipiac University's Director of the cybersecurity program, voiced his apprehensions regarding the nature of healthcare cyber attacks in a conversation with News 8 media following the Prospects Medical Holdings cyber incident.
Frederick said, "People are going into emergency rooms. They are having procedures and so hackers tend to take advantage of that…"
Patients are left with little to no help wherein they battle their health concerns while wondering where there stolen data will land up on the dark web. Just like any other sector, it is time healthcare providers amp up cybersecurity and train employees to address threats.
Media Disclaimer: This report is based on internal and external research obtained through various means. The information provided is for reference purposes only, and users bear full responsibility for their reliance on it. The 
Cyber
 Express assumes no liability for the accuracy or consequences of using this information.