In the complex arena of the Israel vs Palestine conflict, a cyberwar has emerged, with over 100 active hacker groups participating in the war between the two sides.
Among these groups, 20 are aligned with pro-Israel sentiments, while 77 lend their support to the Palestinian side. Additionally, three groups remain neutral in this Israel vs Palestine conflict.
Prominent pro-Israel hacker groups include GonjeshkeDarande, the Indian Cyber Force, and the UCC Team, among others. On the Palestinian front, groups like KillNet, Anonymous Sudan, and Mysterious Team Bangladesh are actively engaged in cyber activities.
Israel vs. Palestine Conflict: A Breeding Ground for Cyber Warfare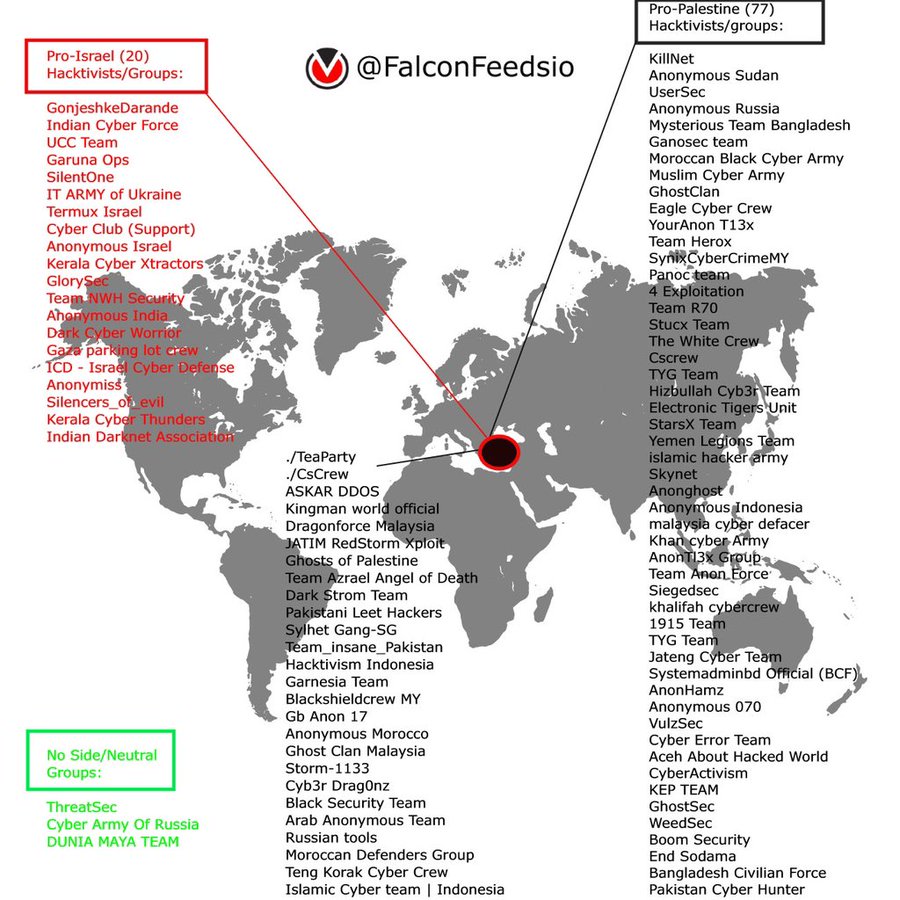 Previously, The Cyber Express reported that in the Israel vs Palestine conflict, over 35 pro-Palestine hacker groups have commenced a series of attacks on diverse targets within Israel.
However, the stakes have only increased because now over 100 active hacker groups have joined the Israel vs Palestine confrontation, taking the sides for both the regions, as reported by threat intelligence service FalconFeed. 
While Israeli hacker groups, who are supporting Israel in this conflict, currently stand at 20, the Palestine hacker groups increased over twice the amount of hackers involved in the previous update.
The current Pro Palestine hacker group stands at 77 prominent names in the hacker community. Three other groups, namely, ThreatSec, Cyber Army Of Russia, and DUNIA MAYA TEAM are currently neutral on the matter. 
Israel vs Palestine conflict: A deeper rooted history
The roots of the Israel vs Palestine conflict trace back over a century, stemming from a colonial act that has led to immense human suffering and displacement.
The recent escalation, triggered by an attack from the Palestinian group Hamas, has rekindled global attention on this longstanding conflict.
The Israel vs Palestine war revolves around Israeli demands for security in a region it perceives as hostile, juxtaposed against Palestinian aspirations for an independent state.
The establishment of the modern State of Israel in 1948, under the leadership of David Ben-Gurion, was seen as a haven for persecuted Jews seeking a national homeland.
However, for Palestinians, this event marked the Nakba, a catastrophe that resulted in displacement and dashed dreams of statehood.
The war that ensued led to the exodus of hundreds of thousands of Palestinians from their homes, reshaping the demographics of the region.
As tensions persist on the ground, the cyber frontlines remain a crucial theater of engagement. With various hacker groups aligning with either Israel or Palestine, the virtual battle mirrors the complexities and divisions present in the physical world.
Media Disclaimer: This report is based on internal and external research obtained through various means. The information provided is for reference purposes only, and users bear full responsibility for their reliance on it. The Cyber Express assumes no liability for the accuracy or consequences of using this information.