Anonymous Sudan has claimed responsibility for targeting First Abu Dhabi Bank and UAE Pass, causing disruptions to their websites and applications.
In a post, Anonymous Sudan stated that they are "attacking First Abu Dhabi Bank," asserting their persistence in the assault.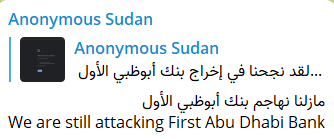 This is just a preparatory attack for a large-scale official cyber attack against UAE," the group added while declaring a larger-scale cyber attack on UAE.
The Cyber Express team has reached out to First Abu Dhabi Bank and UAE Pass to confirm the authenticity of the cyber attack claims made by the hacker. However, at the time of writing, we did not receive an official response from the companies.
Anonymous Sudan launches cyber attack on UAE
The motive behind Anonymous Sudan's campaign to launch a large-scale cyber attack on UAE was revealed in their statement: "We will continue until they stop funding rebels in Sudan (Rapid Support Forces)."
This could suggest a political agenda driving their actions, indicating that the hackers are seeking retribution against the UAE for their alleged involvement in supporting the Rapid Support Forces in Sudan.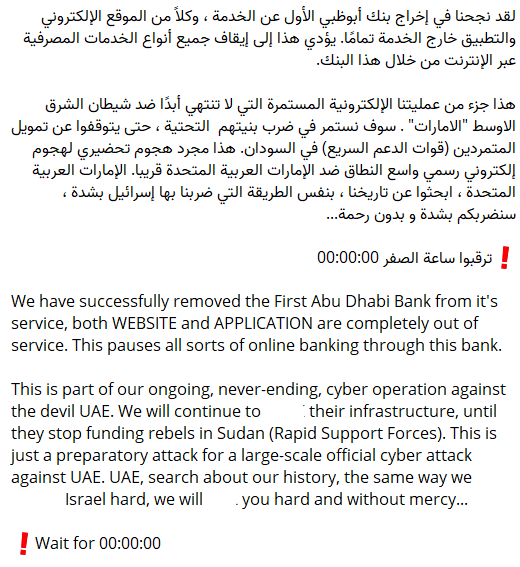 The impact of the cyber attack on UAE is significant, as First Abu Dhabi Bank's website and application have been rendered non-functional. This disruption halts all online banking activities for customers, causing inconvenience and potential financial losses. 
Furthermore, the targeted takedown of UAE Pass, the National Digital Identity and Digital Signature solution for the UAE raises concerns about the potential disruption to various government, semi-government, and private sector websites and applications that rely on it.
The hackers are not mincing their words when it comes to their intentions to launch a large scale cyber attack on UAE.
They have warned the country of an impending larger-scale attack on UAE that will have far-reaching consequences. "We remind everyone these are just small attacks for fun while preparing for the larger attack that everyone in the UAE will realize its massive impact," they stated, emphasizing the severity of their forthcoming actions.
Cyber attack on UAE: The aftermath
The affected organizations, including First Abu Dhabi Bank and UAE Pass, are working diligently to restore their services and enhance cybersecurity measures to prevent future breaches.
It is important to note that this is not the first time the anonymous Sudan hackers group has launched a cyber attack on UAE.
Earlier this month, they launched a series of alleged distributed denial-of-service (DDoS) attacks on several UAE banks, including First Abu Dhabi Bank, RAKBANK, and Mashreq Bank.
The current attack, seems to be a follow-up for the previous attacks as the threat actor is persistently launching cyber attack on UAE-based companies, banks, and government organizations.
The cyber attack is a stark reminder of the ongoing battle against cyber threats and the need for robust cybersecurity measures in the UAE.
As governments and organizations increasingly rely on digital platforms, protecting sensitive information and defending against cyber-attacks becomes paramount.
As the UAE grapples with the aftermath of this cyber attack, it is evident that cybersecurity must be a top priority for governments, businesses, and individuals.
Strengthening defenses, promoting cybersecurity awareness, and fostering collaboration between public and private sectors are crucial to safeguard against future attacks.
The cyber attack on UAE serves as a sobering reminder of the ever-present threats in the digital realm. It underscores the importance of proactive cybersecurity measures and the constant adaptation to protect against evolving cyber threats. 
Media Disclaimer: This report is based on internal and external research obtained through various means. The information provided is for reference purposes only, and users bear full responsibility for their reliance on it. The Cyber Express assumes no liability for the accuracy or consequences of using this information.