Cyber espionage group 'Strontium Stealer' has launched a Remote Access Trojan (RAT) 'LithiumRAT' packed with new features to enhance malware attacks and gain full administrative privileges.
"LithiumRAT functions as an information stealer and is specifically designed to carry out malicious activities including reconnaissance, espionage, data exfiltration, and the execution of additional payloads ranging from trojans to ransomware," said a threat brief by Falcon Feeds, shared exclusively with The Cyber Express.
Earlier in April, the group had conducted a poll on the dark web, seeking inputs from users about what features they wanted in the Remote Access Trojan (RAT) that they were building.
The options included functions such as taking "screenshots of the target's webcam" and "Live streaming the target's webcam".
"As for the usage of this threat, little is known at this point since it was published only recently, on May 28, 2023," the Falcon Feeds threat assessment.
"However, in the future, a phishing campaign may be seen as their primary attack vector for initial access. We have observed FusionCore targeting Lindesberg Municipality in Sweden, and the Typhon Stealer in a phishing attempt against an infosec company in the Asia Pacific region," it added.
From Strontium Stealer to the launch of LithiumRAT – How it all began
Strontium, operating from Russia, gained notoriety in 2020 through a Microsoft report about their stealer activities targeting Office365.
The information stealer was aimed at organizations belonging to the United States of America and the United Kingdom, involved in political elections. The group managed to compromise more than 200 organizations between September 2019 and June 2020.
The group targeted several high-profile entities.
"It was also identified in the Mueller report as the organization primary responsible for the attacks on the Democratic presidential campaign in 2016," a Microsoft blog read. They gained access through spear phishing emails.
FusionCore's use of Strontium stealer
FusionCore, the cybercriminal group from Europe, found an effective information-stealing tool in the Strontium Stealer.
Besides, Strontium, the group that was founded in 2022 by a member called Hydra relied on Typhon Reborn stealer, NoMercy, infostealer, RootFinder Stealer, Cryptonic Crypter, RootFinder ransomware, SarinLocker, and many others.
The group created a special support page for Strontium stealer to seek reviews and feedback from hackers and fellow members to build a more capable information stealer.
"The server and client components of the malware are lightweight. The client component is only 83KB in size. The malware is designed to bypass majority of anti-virus programs," a CYFIRMA report read.
Launching the new LithiumRAT
A Threat Analyst going by the name of RussianPanda tweeted about the launch of the final version of the Strontium Stealer RAT, the LithiumRAT with the following screenshot with its features –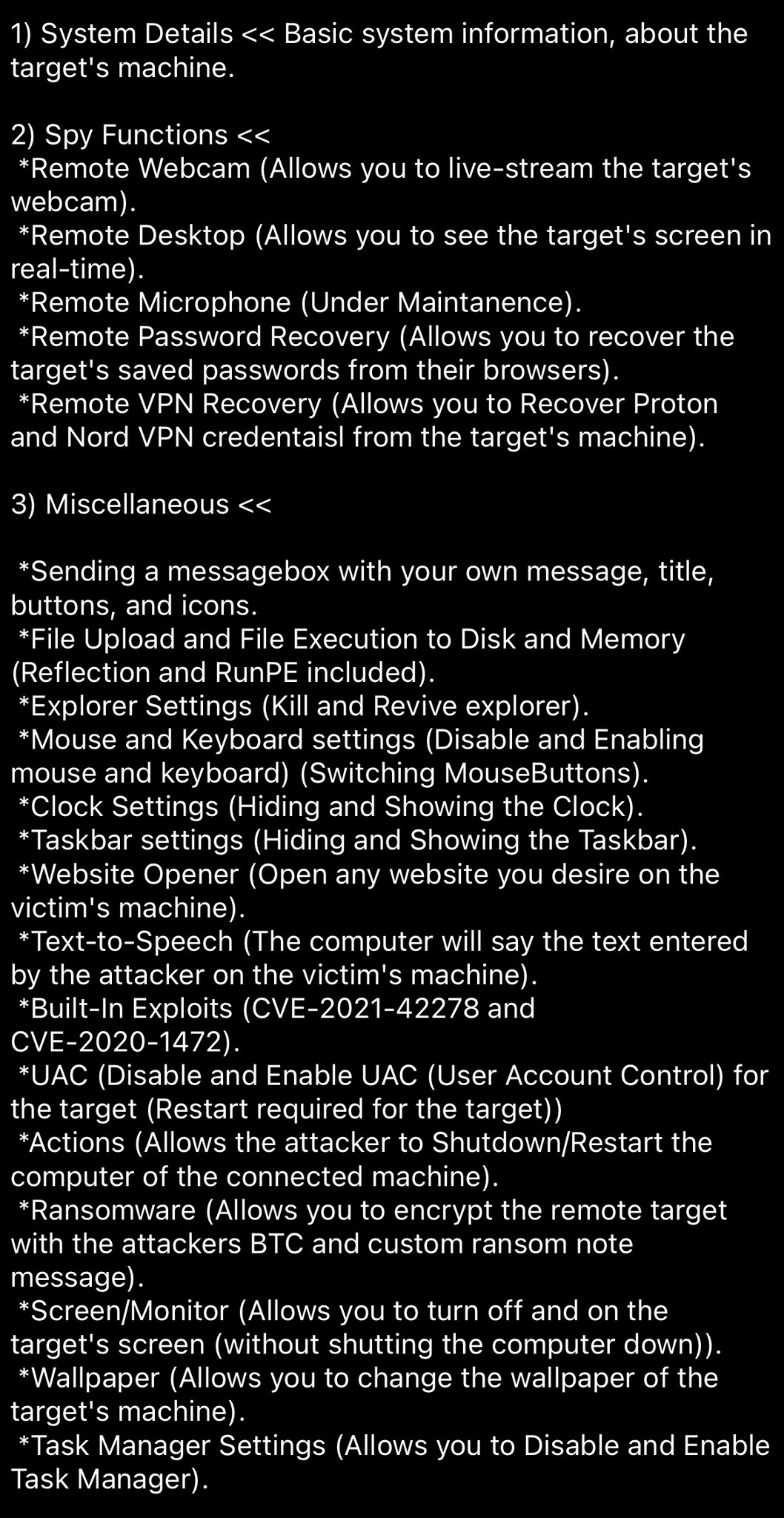 The Strontium Stealer's LithiumRAT can steal data from the webcam, taskbar, VPN, and text-to-speech tools, among others.
Its spy functions included remote screen-viewing, live streaming the webcam content, gaining browser passwords, recovering Proton and Nord VPN credentials, and more.
The post read that the remote microphone data access was still under maintenance suggesting that there is still some work they will be doing on the LithiumRAT.
It can alter the clock settings by hiding and showing it which draws suspicion over the group's targeting overseas entities for unknown, malicious purposes.
It has built-in exploits for CVE-2021-42278 and CVE-2020-1472 that allowed escalated privileges.
Furthermore, the Strontium stealer can enable and disable the UAC or the User Account Control, monitor, and the task manager. It can change the wallpaper, restart the device, open a website and encypt the remote target and leave a ransom note.
Polling and voting for Strontium stealer's LithiumRAT

The threat intelligence firm FalconFeedsio tweeted about the naming of the new RAT which would be LithiumRAT.

Going by the back-and-forth communications on the hacker forums, it can be inferred that the LithiumRAT has been a work in progress. It still lacks some features that has been worked upon.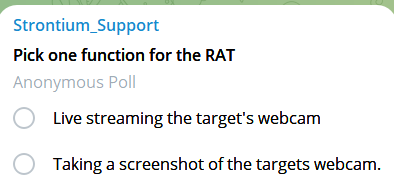 While the RAT was a work-in-progress the developers took several poles to see which features the LithiumRAT should possess.
Choosing between live streaming of the webcam and taking screenshots from the webcam to having ransomware, multi-platform clipper, and RAT capabilities were asked to be voted for, anonymously.
How to bell LithiumRAT
To ensure the security of your information systems, the Falcon Feeds threat brief prescribed these guidelines and mitigation strategies:
Be cautious when downloading executable files, avoiding untrustworthy websites and torrent swarms to minimize the risk of info-stealing infections.
Rely on official news sources, such as the President's website or verified messages from official platforms like Twitter, for breaking news in affected areas, as they are more credible than random emails.
Exercise caution with unsolicited emails and refrain from downloading and executing files from them. Always scan downloaded files using an up-to-date antivirus program.
Foster a security-oriented mindset among your staff by implementing measures such as multi-factor authentication and strong password policies. Remember that phishing attacks are commonly used by sophisticated adversaries, so educate your employees about recognizing and mitigating these risks.
Implement network segmentation to limit the impact of successful attacks on critical systems, effectively containing any breaches.
Deploy endpoint protection solutions that can detect and prevent malware infections, providing an additional layer of defense.
Provide regular security awareness training to employees, emphasizing best practices for recognizing and mitigating the risk of phishing attacks.
Monitor network traffic and user activity to promptly identify and respond to any suspicious behavior, enhancing your ability to detect and mitigate potential threats.
Media Disclaimer: This report is based on internal and external research obtained through various means. The information provided is for reference purposes only, and users bear full responsibility for their reliance on it. The Cyber Express assumes no liability for the accuracy or consequences of using this information.