In a new cybersecurity revelation on a prominent hacker forum, a user going by the name "Ddarknotevil" recently asserted responsibility for the Campani Group data breach. 
The compromised database, totaling approximately 409 MB, was allegedly uploaded by the user, who sports an avatar featuring the iconic character "Lain" from the 1998 Japanese animation series Serial Experiments Lain. Ddarknotevil, a Gold account holder on the data leak forum, boasts a noteworthy reputation with over 179 posts. 
The user's announcement on the dark web reads, "Hello again BreachForums Community, Today I have uploaded the 'https://www.campanigroup.it/' Database for you to download, thanks for reading and enjoy!" A link to view the pilfered data accompanied the post, along with an unsettling image showcasing sample data.
Campani Group data breach claims by Ddarknotevil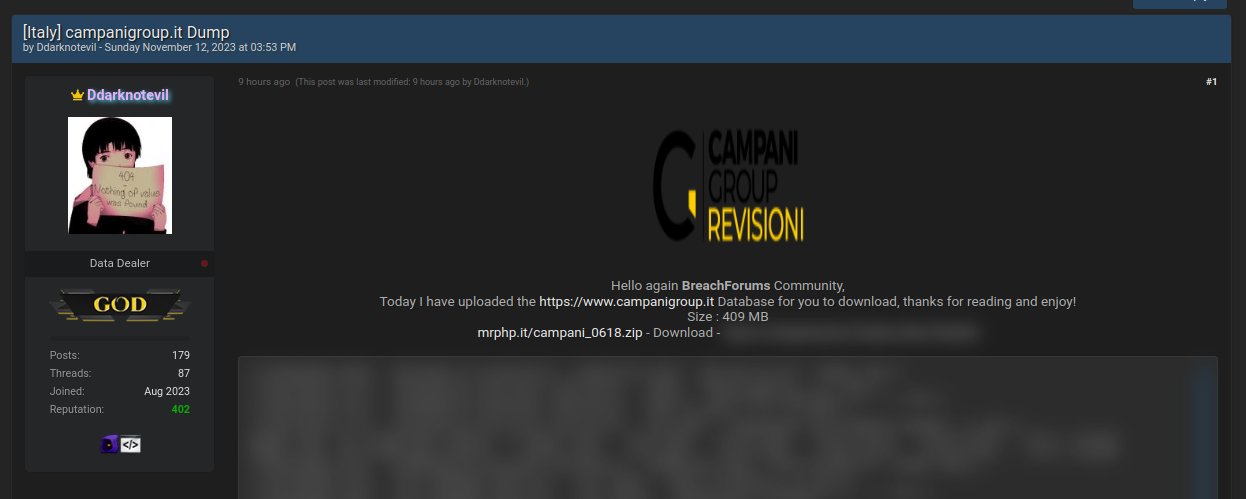 In an attempt to validate these Campani Group data breach claims, The Cyber Express reached out to Campani Group, an automotive dealer in Emilia Romagna, Italy, with over 40 years of industry experience. 
The organization, which operates five brands, two dealerships, and provides automotive services across Italy, has yet to issue an official statement or response regarding the alleged Campani Group data breach.
While the Campani Group data breach remains unverified, it's noteworthy that Ddarknotevil has a history of similar exploits. Previously, the user targeted the website of the India-based Kanakia Group, a multifaceted conglomerate involved in Real Estate, Hospitality, Entertainment, and Education.
What next for Ddarknotevil after the Campani Group data breach?
In the previous assault, Ddarknotevill disclosed FTP server credentials and publicly exposed certain user data, suggesting unauthorized acquisition through the compromised website.
While in this particular attack, no other information about the attack method was shared and there has been no response from the organization about the alleged Campani Group data breach. 
As the story unfolds, the Campani Group data breach raises concerns within the cybersecurity community. The lack of an official statement from the organization adds an air of uncertainty to the situation. Notably, this is not the first time Ddarknotevil has surfaced in connection with a data breach. 
Stay tuned for updates on this ongoing story, as The Cyber Express will continue to provide information on any developments or official responses from Campani Group regarding the alleged data breach.
Media Disclaimer: This report is based on internal and external research obtained through various means. The information provided is for reference purposes only, and users bear full responsibility for their reliance on it. The Cyber Express assumes no liability for the accuracy or consequences of using this information.